We have a large collection of window treatments, which makes it hard to pick favorites, but…there is nothing quite like the Pirouette shade. This shade offers solutions for privacy, allows for glowing natural light, and is incredibly gorgeous. Take a look at why we love this collection…
Choose Your View: Crisp & Clear vs. Soft & Filtered
Clearview® is one of our newest innovations for the Pirouette collection. This option incorporates a black sheer fabric, giving you a crisp view outside. The original sheer backing is equally beautiful and diffuses the incoming light.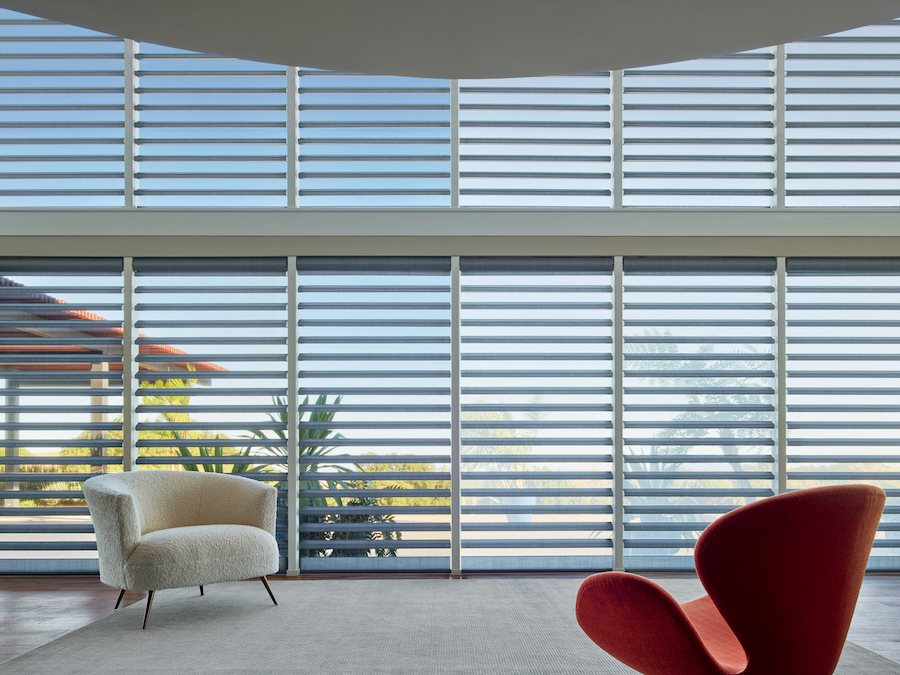 Take a look at the comparison right here. On the left, you see Clearview, while the original fabric is featured on the right. Both offer a gorgeous view and solutions for light & privacy. There's no wrong choice–it's all up to your personal preference!
Maintain a Coordinated Design
Most of our clients come to us when they need solutions for their atmosphere, but matching your interior design is just as important. This might seem like a daunting task to some, especially for those with open floor plans, but our professional designers have seen it all.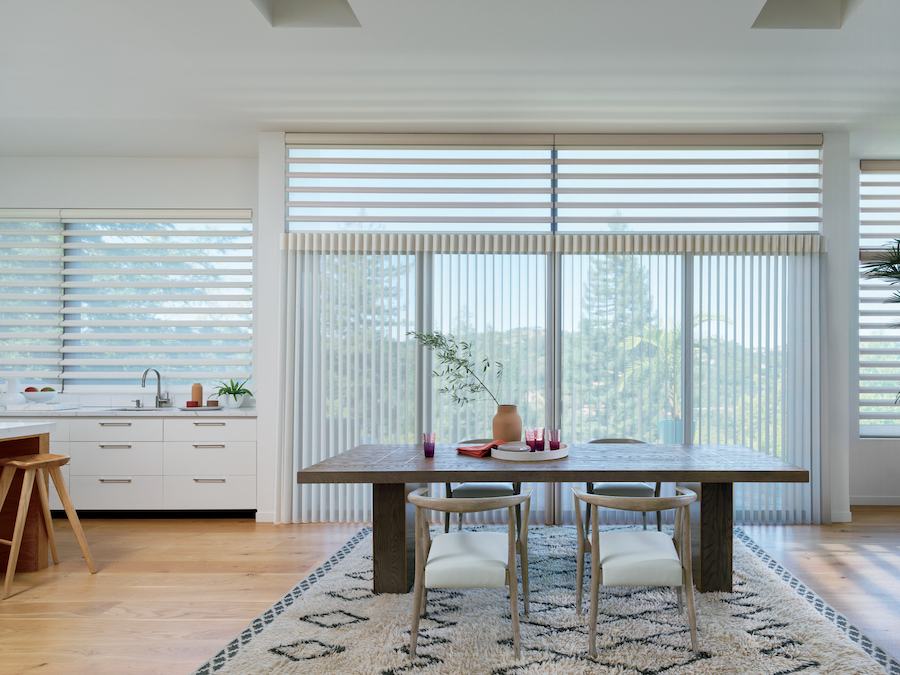 We know that one treatment won't work for every window. What works for your kitchen sink won't necessarily work for your sliding glass door. This is never an issue because our collection of Hunter Douglas shades offers the function you need, while allowing you to coordinate the design. Plus, you'll enjoy the added benefit of UV protection–the sheer fabric is up to 81%, while it blocks up to 99% when the shade is closed. Rest easy knowing your interiors are protected.
Large Windows? No Problem.
Large windows add so much life to your home. They show off your incredible view and bring in a lot of natural sunlight. But, as great as they can be, they can also cause comfort issues. You need light and privacy control in all areas of your home. The Pirouette is the perfect option. You don't have to adjust the entire shade to change your atmosphere; instead, simply open or close the vanes.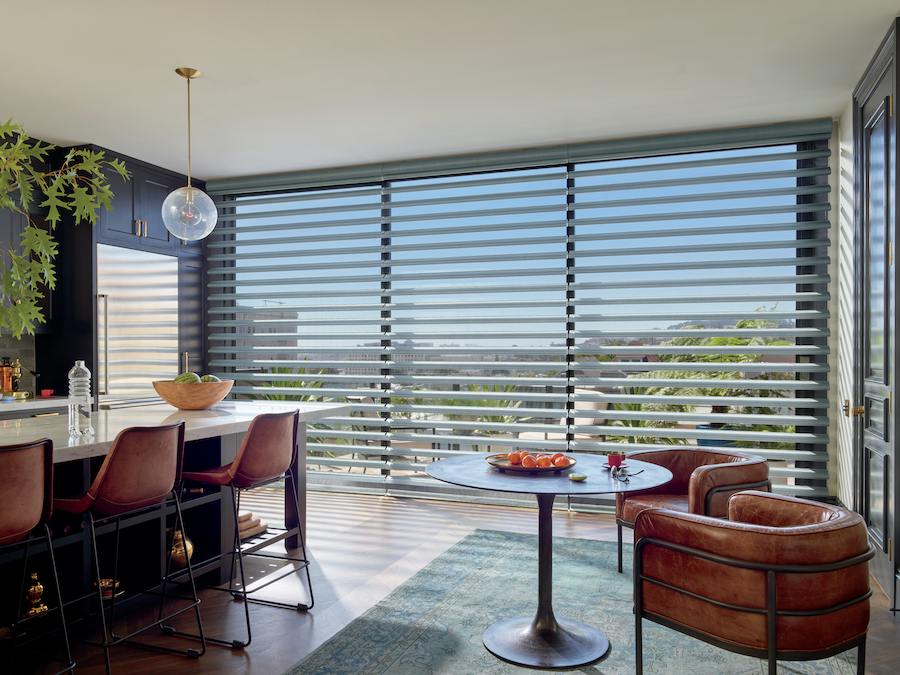 We've seen some huge windows, and the Pirouette is always a fantastic choice. They can be customized up 144 inches in both width and height. For even larger windows, we can use multiple Pirouette shades for gorgeous, dimensional coverage, with a seamless finish.
Simple Operating Systems
Out of all of our operating systems, our clients love automation the most, especially when paired with the Pirouette. You can control the entire shade, as well as the vanes, with a simple tap on your smart device or remote. Another motorized option is our SoftTouch™ system. This incorporates a sleek wand next to the window.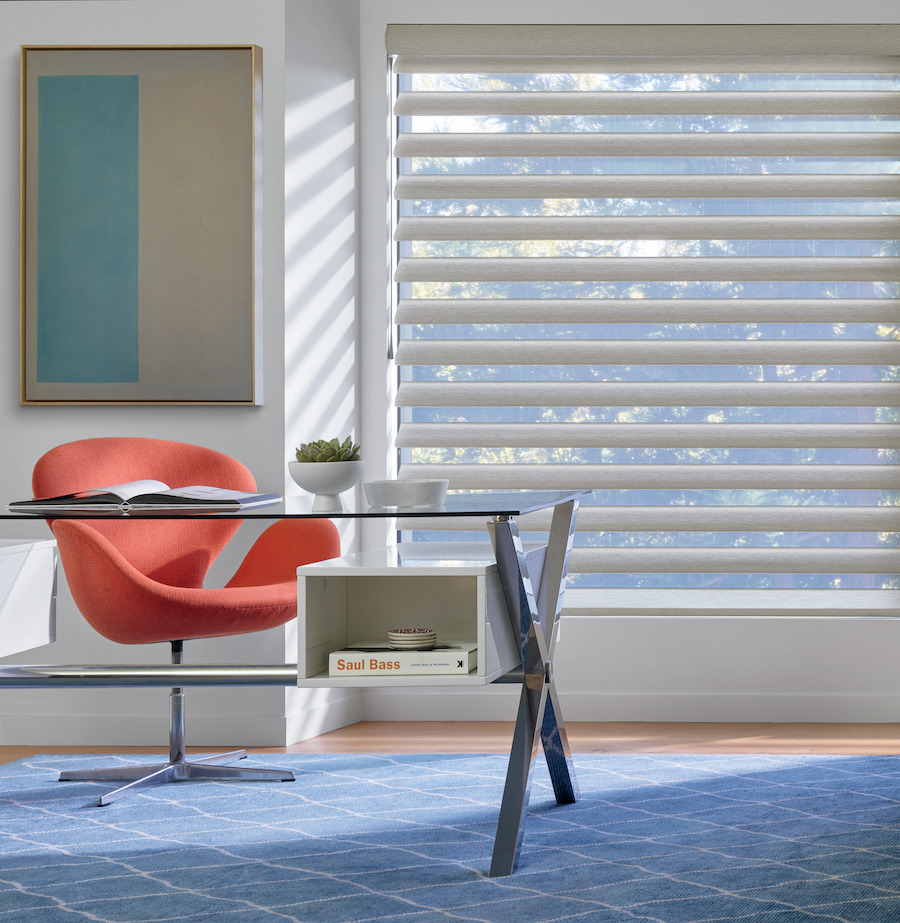 We love our smart shade options, but sometimes all you need is a simple cord. We have two cord options for Pirouette shades, which are both child-safe: Ultraglide and EasyRise. Ultraglide has a short, retractable cord. EasyRise is a continuous cord loop, which sits–fastened securely–at the edge of the window frame. Which option sounds right for your home?
Whether you're looking for light control, privacy solutions, or an updated style for your windows, the Pirouette is the way to go. Are you ready to add this gorgeous shade to your home? Contact our team today at Window Fashions of Texas for your FREE design consultation.