A Menu of Dining Room Window Treatments
November 17, 2020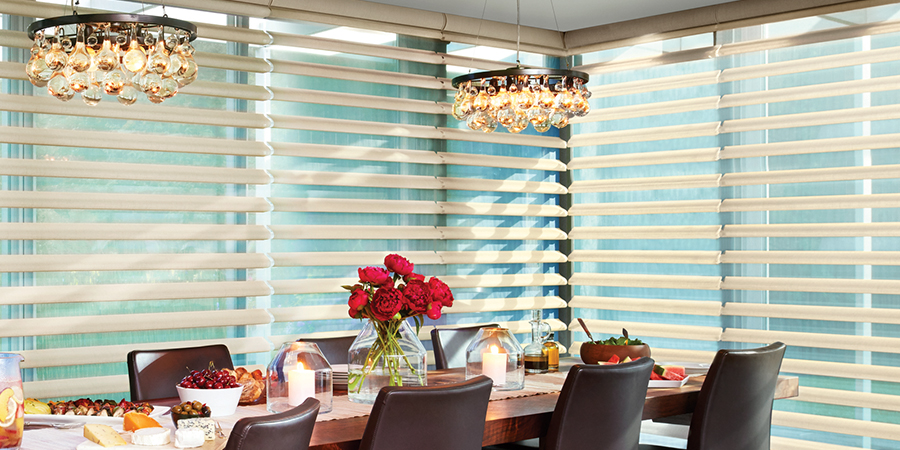 Dining room windows are such an asset to your home. Generous windows stream-in natural light and provide scenic views to those enjoying the space. However, too much of a good thing can lead to uncomfortable dining conditions. Harsh sunlight or foot traffic outside your windows may distract your family and guests during their meal. The best solutions for dining room window treatments will depend upon your dining room configuration and family preferences.
A La Carte Window Coverings Solutions
Consider whether the area is part of an open floor plan or a traditional closed space, as well as how much natural light the space receives, privacy concerns and the time of day the space is most often used. Once you focus on your dining area issues, your personal décor preferences will guide you to the best window treatment solutions for your space.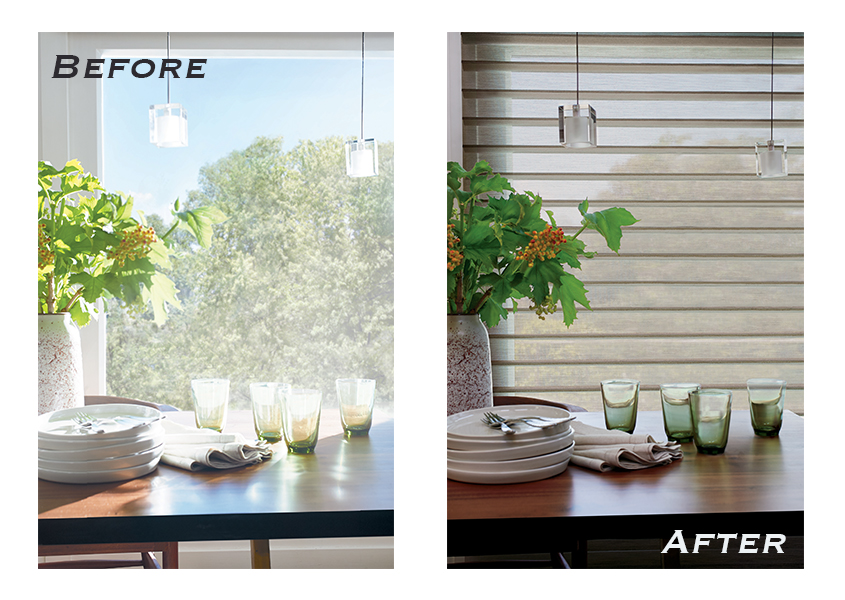 The dining room above is filled with incredible natural light. However, before window treatments, this room was difficult to use during certain times of the day because of the harsh sunlight. Once shades were added, this space became glowing and beautiful. What is the right solution for your home? There are several options to consider and we can help you make those selections. Let's talk about some common alternatives.
Ordering Up Privacy
Is privacy a concern for you but you still want generous amounts of light in your dining area? Consider a top down bottom up system.  This option will solve any foot traffic distractions outside the windows while allowing sunlight to brighten the space. While top down is for shades, shutters offer a similar feature and benefits.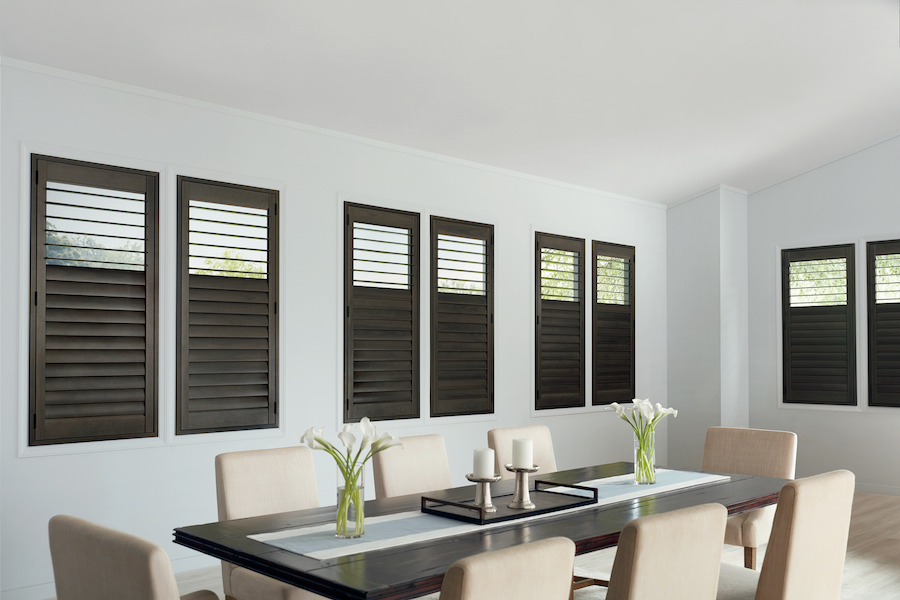 This dining room uses NewStyle Hybrid Shutters which offers a "split tilt" system. In this system, the top of the shutters remains open, allowing light into the space, while the bottom of the shutters can be closed for complete privacy and light control at eye-level.
Filtering the Natural Light for a Catered Approach
If you have generous light filling your dining room, this may be distraction to your family and guests. It is hard to enjoy a meal while squinting from glare or overheating under direct light. The ideal window coverings will give you control over these elements and provide everyone with an more enjoyable experience.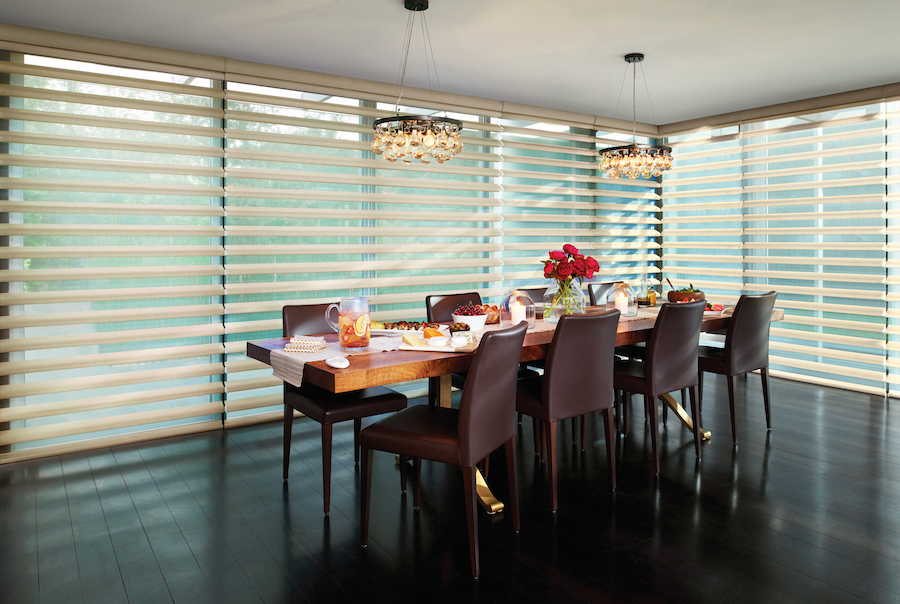 Pirouette shades are used in this dining room to provide a range of light control. When these shades are opened, they reveal light diffusing sheer fabrics. However, when closed, they offer complete privacy, light blocking and protection from harsh UV rays.
A Custom Order: Laying with Fabrics
Fabrics provide a custom appearance by softening the windows and bringing color into the space. Using draperies is a simple and stylish way to achieve light and privacy control. If more control is desired, this is the perfect opportunity to layer your window treatments.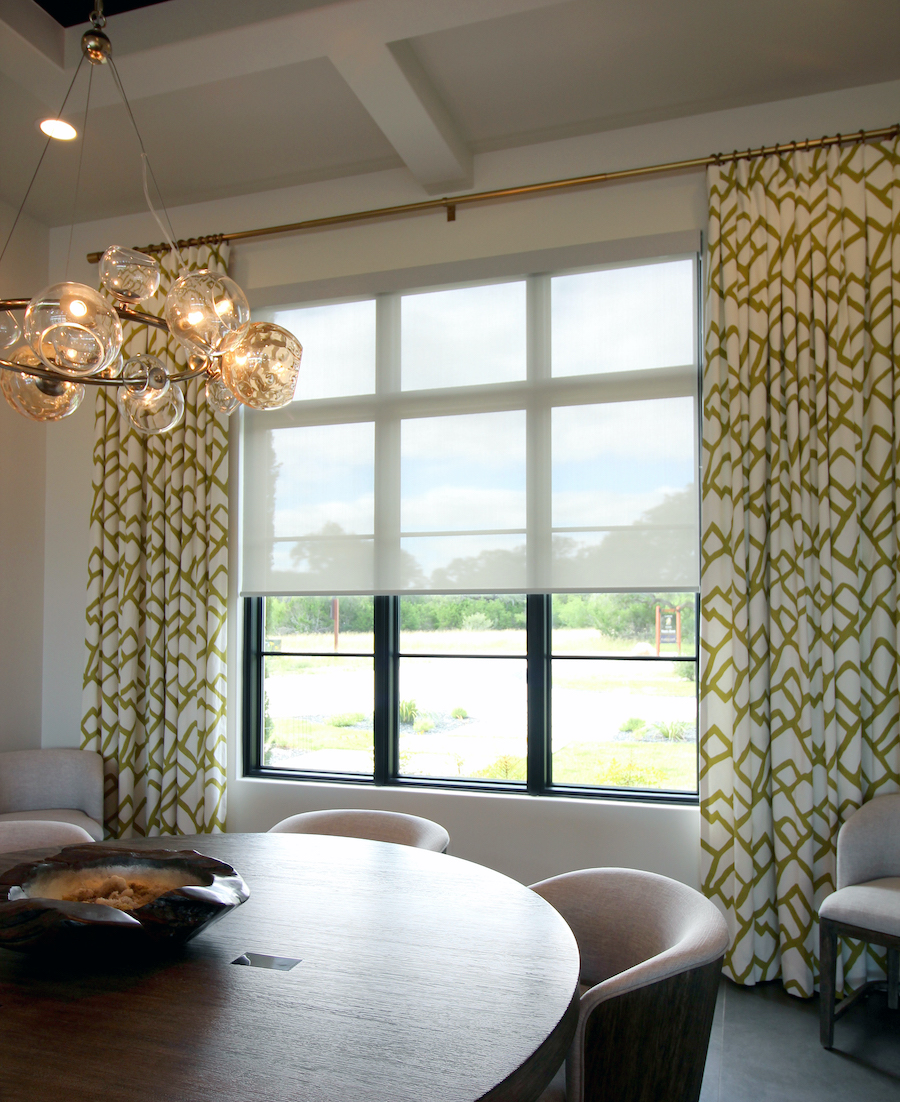 In this dining room, Designer Screen Shades are used as a base layer and coupled with flowing draperies to provide light control and privacy. These shades offer diffused natural light and reduced glare while enjoying the view.
Serving Up your Window Covering Solutions
Ready to explore window covering options that are custom to your home? Our team at Window Fashions of Texas can help you choose the best dining room window treatments for your space. Design experts are here to offer inspiration, ideas and advice. Contact us for a FREE design consultation today!