Sliding glass doors, patio doors, and french doors all add to–and create–an amazing atmosphere in any home. But while they can be amazing, they can also come with some drawbacks. Maintain all the benefits of your glass doors with the perfect window treatments for covering doors. Let's take a look at how to find the right fit for your doors. 
A Grand Entrance
Your front door is the first thing guests will see when entering your home. This is why security is so important when it comes to covering doors in your entryway. Whether it's someone dropping off a package,  a door-to-door salesperson, or even neighbors walking by, without window treatments, they'll be able to see right into your home. If you have sidelights or other slim windows on either side of your front door, we're ready to cover those, too.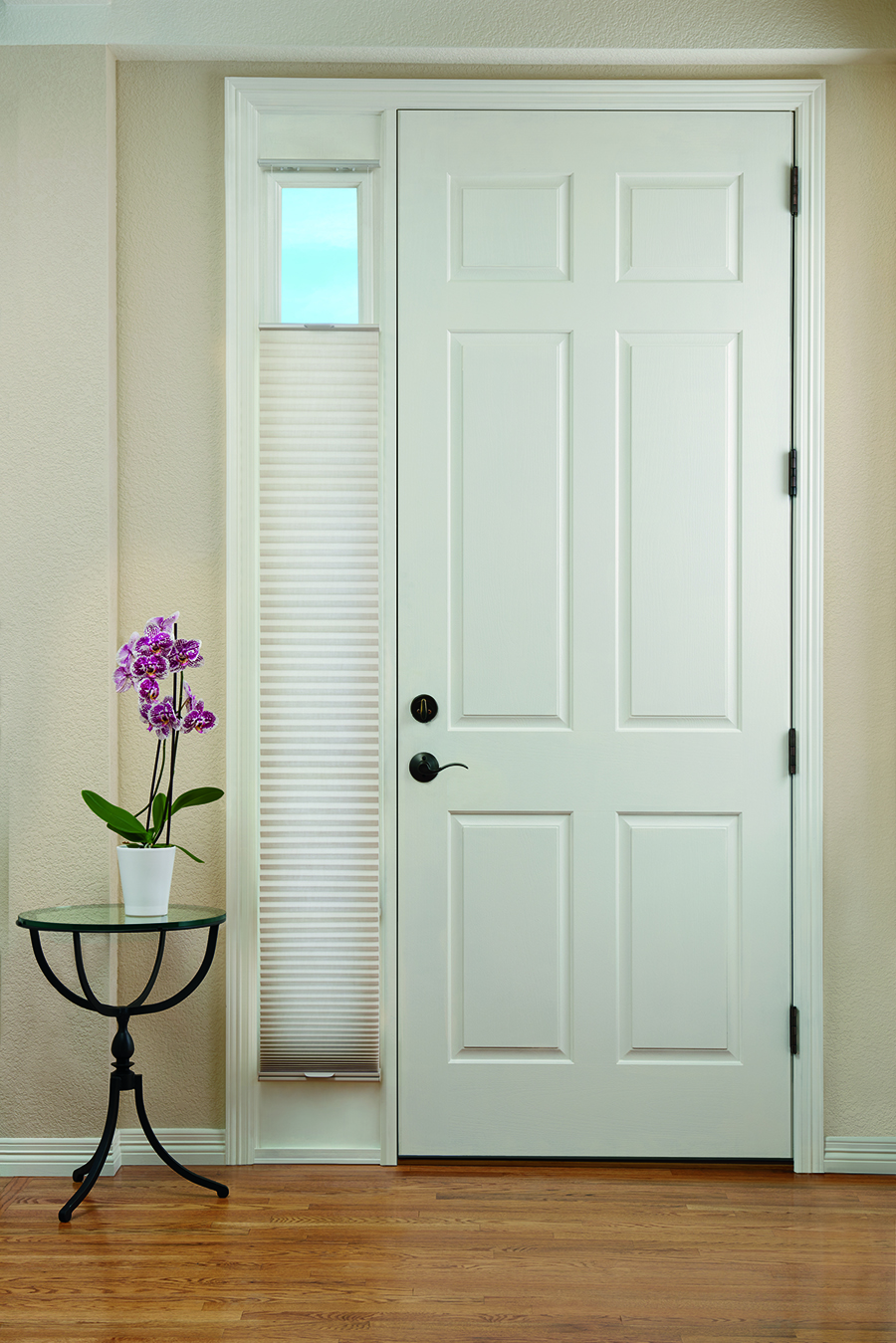 As you can see in the entryway above, our honeycomb shades are customized to fit its narrow window. Not only do they add privacy, light control, and energy efficiency, but they also add style. And with the top-down bottom-up feature, you can decide if light shines in through the top of your windows or bottom. 
Ideas for Patio Doors
Now that spring is in full bloom, you'll most likely be using your patio doors quite a bit! Having the perfect window coverings is essential for making your transition from the inside of your house to your backyard as flawless as possible. Sheer shades are great for patio doors and are well-equipped to handle all the foot traffic they'll face this spring.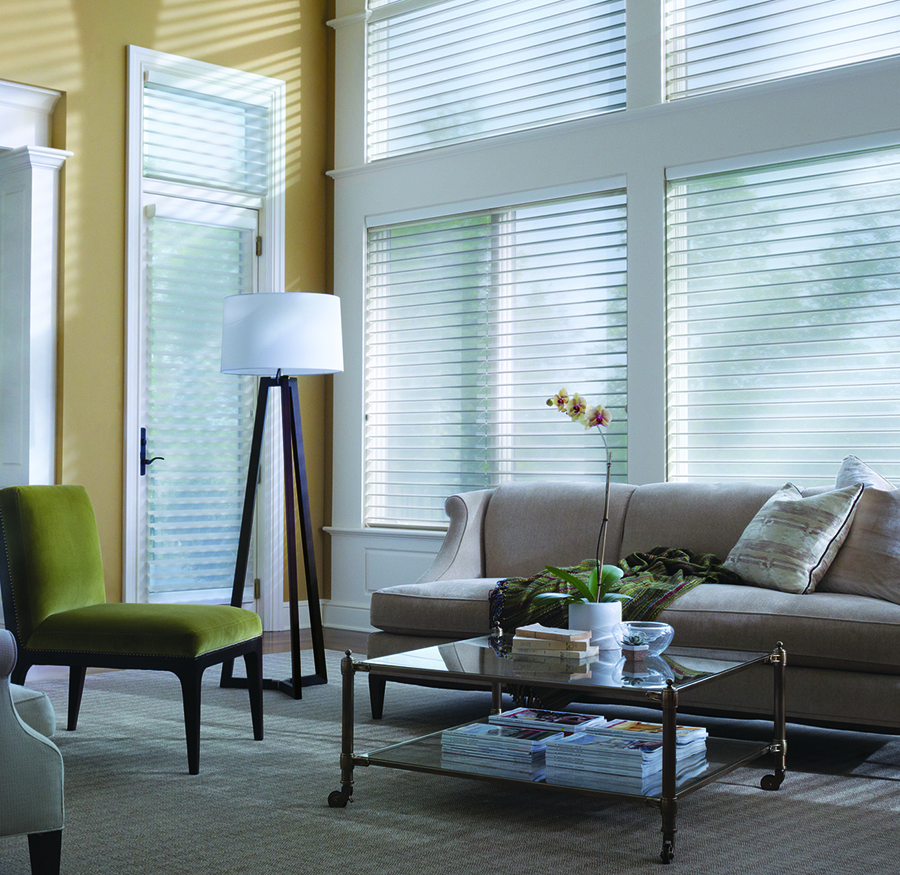 Plus with sheer and roller shades you'll be able to filter light and protect your privacy. And the best part is, you'll be able to do this while still coming and going with ease. No having to worry about your patio doors getting caught or stuck with these shades. 
Window Treatments for Sliding
Sitting down to eat family meals can be a wonderful part of the day. But, they can easily be ruined without the right window coverings. Sunset occurs exactly at eye-level, heating up your dining area and leaving family members fighting over certain seats. Combined with this time of day, sliding glass doors are a popular feature, which means the whole experience is even more intense than a simple window. In addition to the discomfort from the sunshine, your privacy is essentially non-existent. Sliders can end up causing a long list of issues, like glare and floor damage due to that harsh sunlight. Covering doors in this area is a must.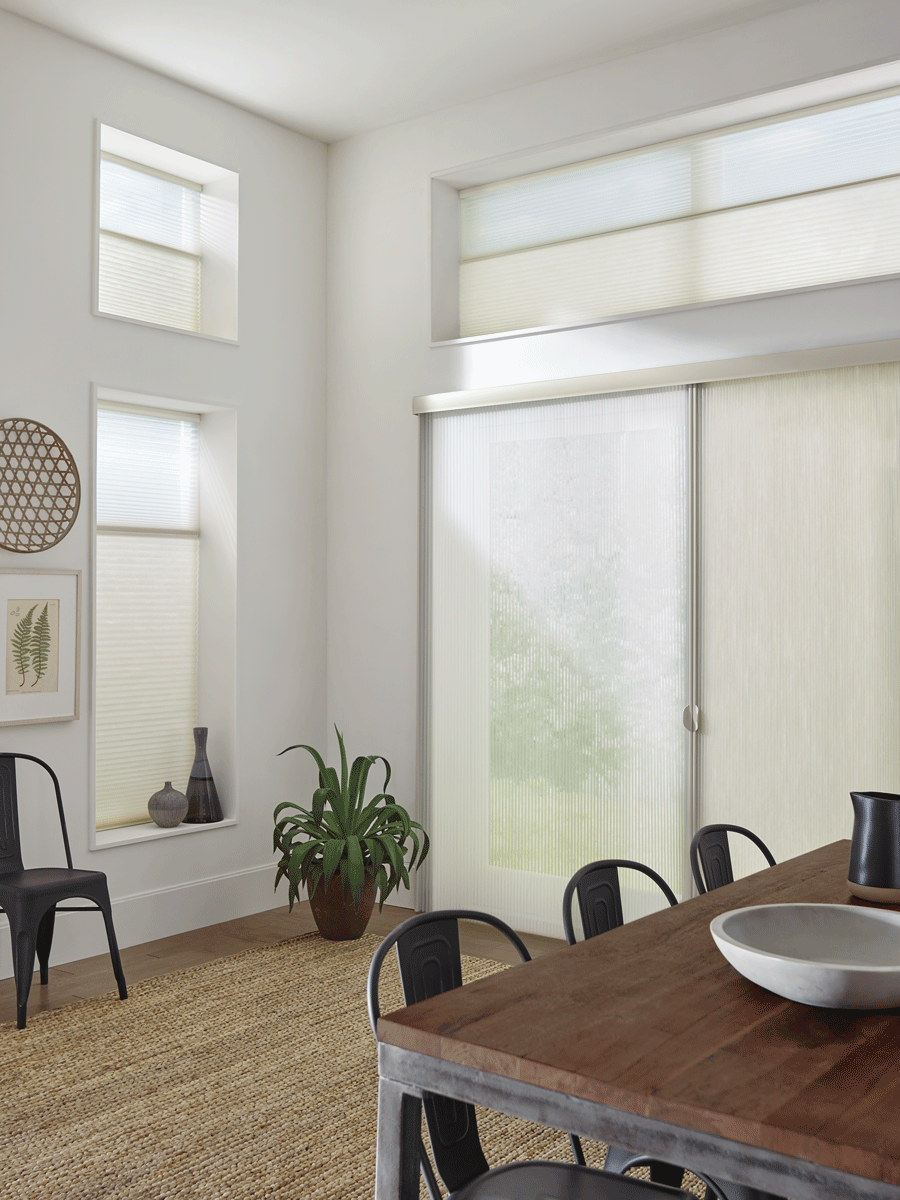 But, thanks to today's innovations, choosing window treatments has never been easier! Try out our custom solutions, and see for yourself. Pick from a variety of window treatments made for any door. Many folks love the idea of cellular shades that move side-to-side, like the ones pictured above. You can coordinate the look of your doors with the matching shades on your windows. More ideas? Let's take a look…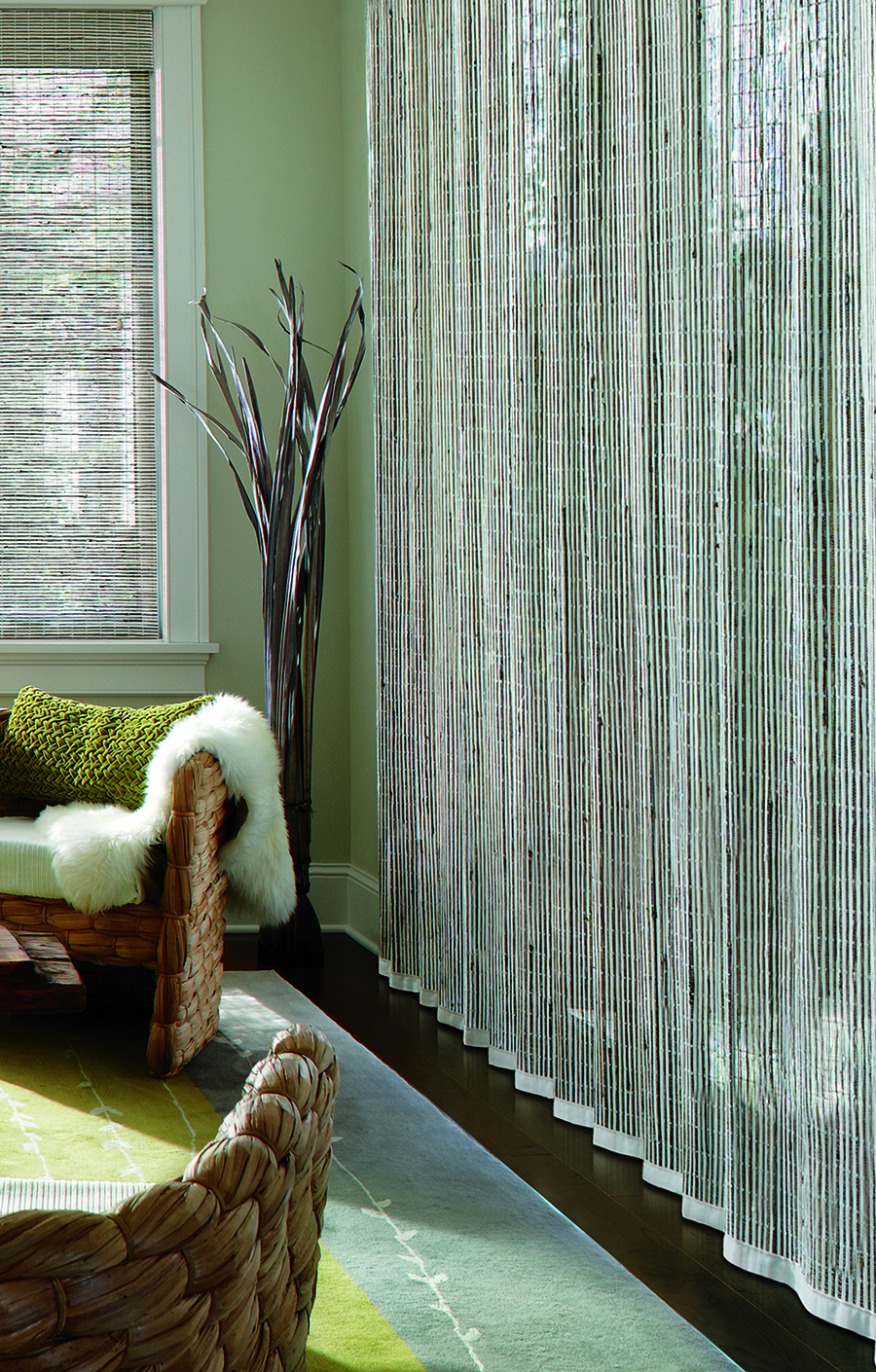 Automated shades are perfect for covering doors. With smart home features, it's never been more convenient. Features like voice control automation allow for a hands-free approach. Plus, they easily integrate with essentially any smart home device.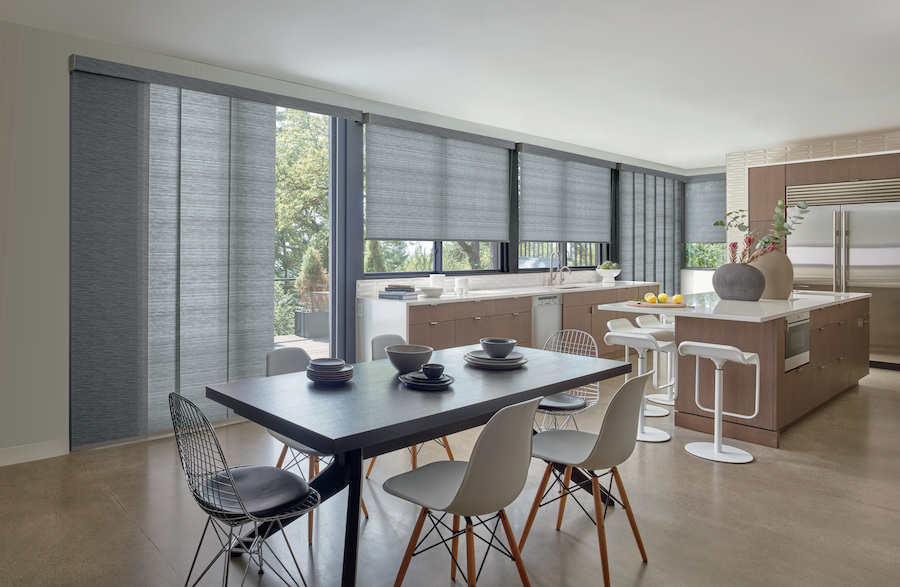 Covering French Doors
What's the first thing you think of when you think of french doors? For us, it's the elegance they instantly bring to any home. So, when covering them up we want to make sure not to get rid of any of that elegance. Woven woods, and many other shades, bring texture and beauty to the look of these doors.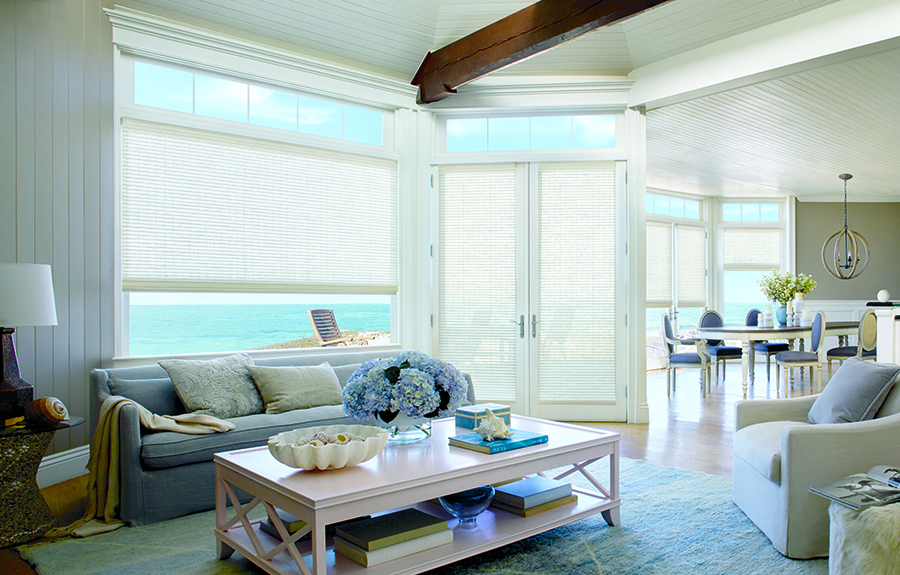 Or, is you love the look of plantation shutters, they are a stunning choice. Add a bit of personality and design with a wood stain or white paint. With special design elements, like door handle cutouts, you get both fashion and function.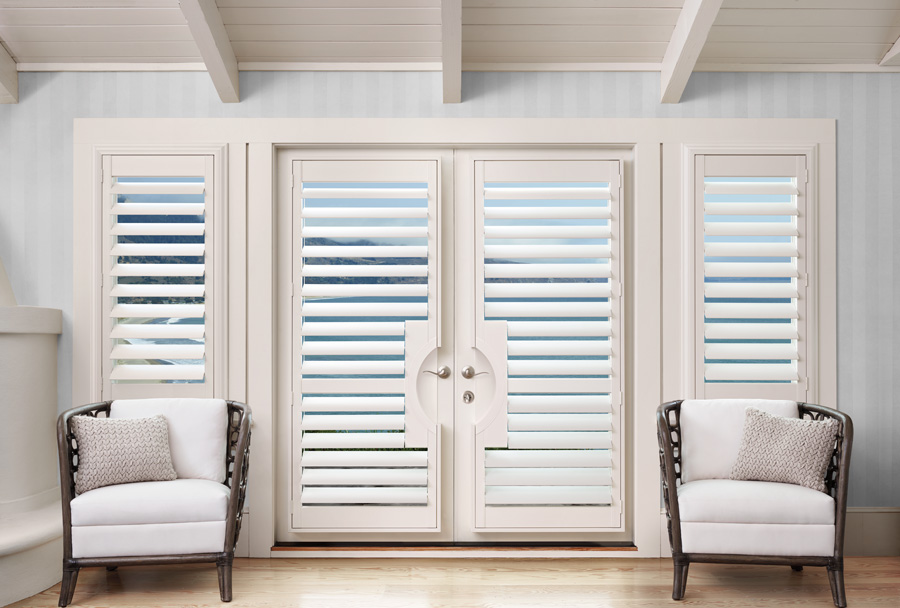 Another great way to add a sense of style, while having the option for coverage, is with draperies. And the best part is they are controlled by simply drawing the fabric open or closed. Get light and privacy control without a hassle. With a variety of fabrics, patterns, and textures you can personalize your window treatments.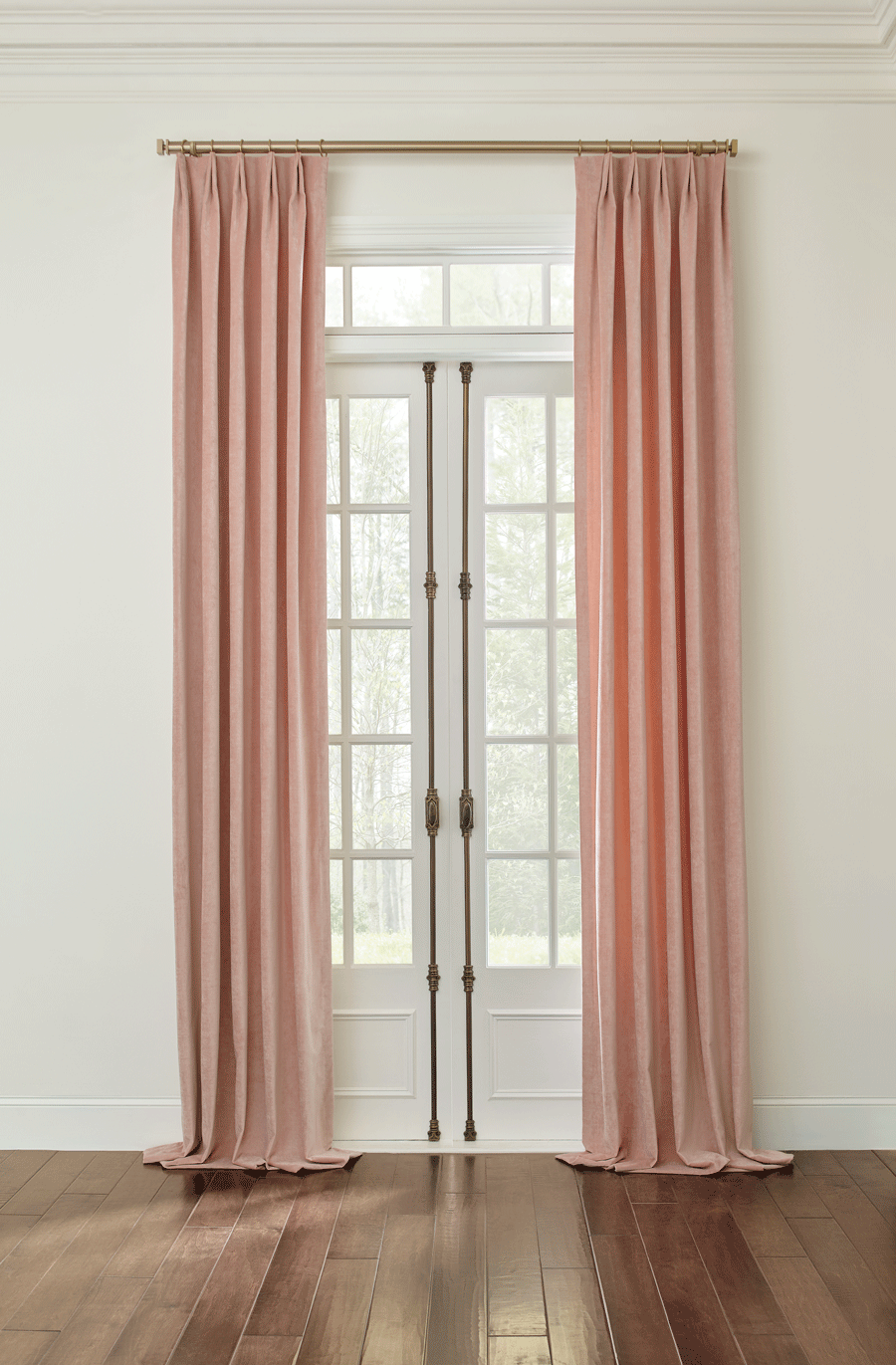 Find the Perfect Window Treatments for Covering Doors!
After reading about all of your options, you might be worried about where to start covering your doors. Well, there's no need to worry! Our team here at Window Fashions of Texas is ready to help you through the entire process. Contact us today for your FREE design consultation!