Does your bathroom need an update–but you don't know where to begin? You're not alone. Our bathrooms are a private space that we seem to neglect when renovating our homes. Which style do you like? What features do you need?  Should we prioritize light control, air flow, privacy or design? Our designers at Window Fashions of Texas can show you ways to have it all. Come explore the most recent bathroom features that will get you excited about beginning your redesign. 
The Perfect Pair
To start, we've discovered privacy + light to be the perfect combination of bathroom features. A newly styled bathroom should be your retreat from the stressors of the day. Natural light and the feeling of security are important factors in achieving this feeling.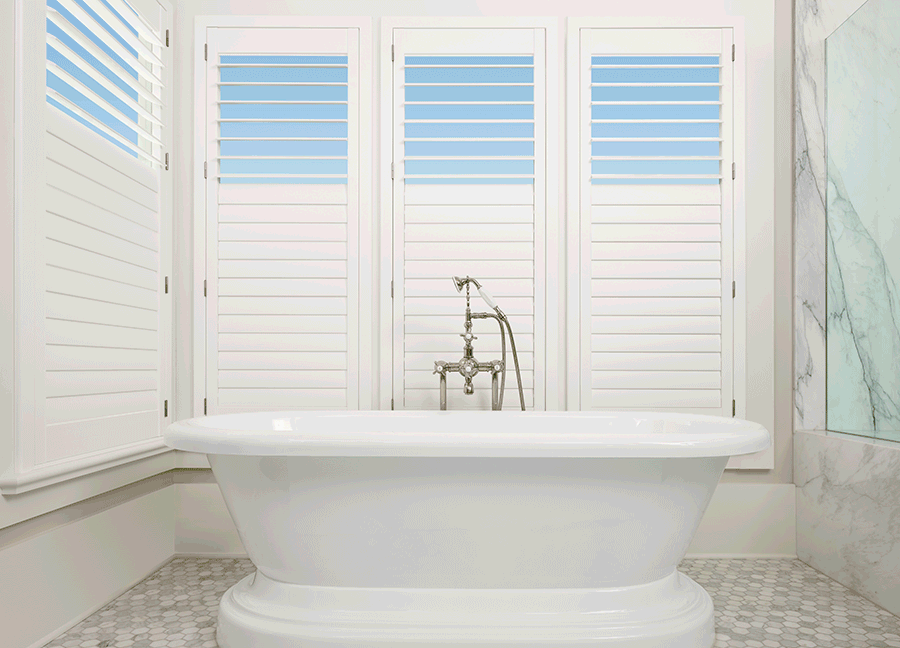 A private space doesn't have to feel closed up and stuffy. Here, plantation shutters are the solution. Designed with split tilt functioning, controlled with automation, these treatments allow for natural light to fill the bathroom through the open tops, but close off the bottom for privacy. Other window products offer the same benefits. Check out top down bottom up shades for more ideas. 
North, South, East, West
Do you know which direction do your windows face? It's an important topic when exploring bathroom features. Because the direction of your windows can determine the functional needs of your space, take a day to evaluate sun exposure and its benefits–or possible drawbacks. Beyond the obvious features of privacy + light, our professionals can point out other factors to consider when making final decisions to create the perfect atmosphere.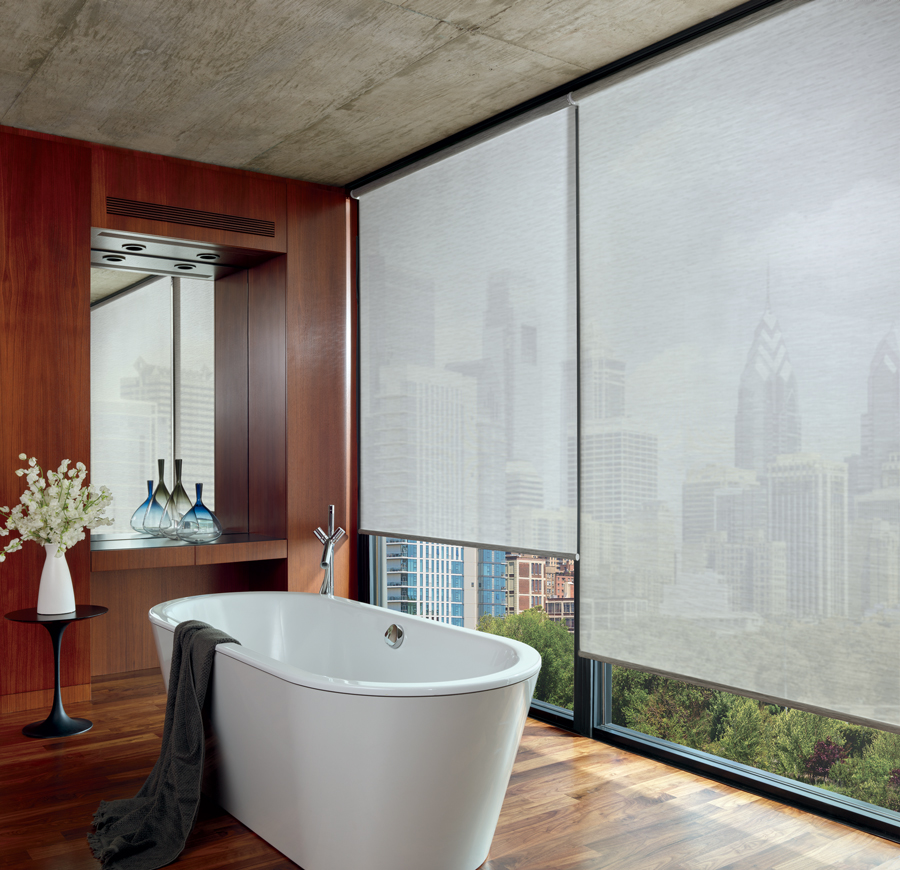 For example, have you considered how UV rays may affect the high-end furnishings you've chosen to complete your luxury bathroom? Or, what about the harsh glare that blinds you while you're getting ready for an evening out? Our designers know which obstacles to look for when choosing bathroom features for a comfortable space–all things considered. 
Unique to warm climates like Texas, windows can attract an incredible amount of heat. By controlling the heat with shades that include energy efficient properties, your bathroom can remain comfortable. Add that to your list of bathroom features.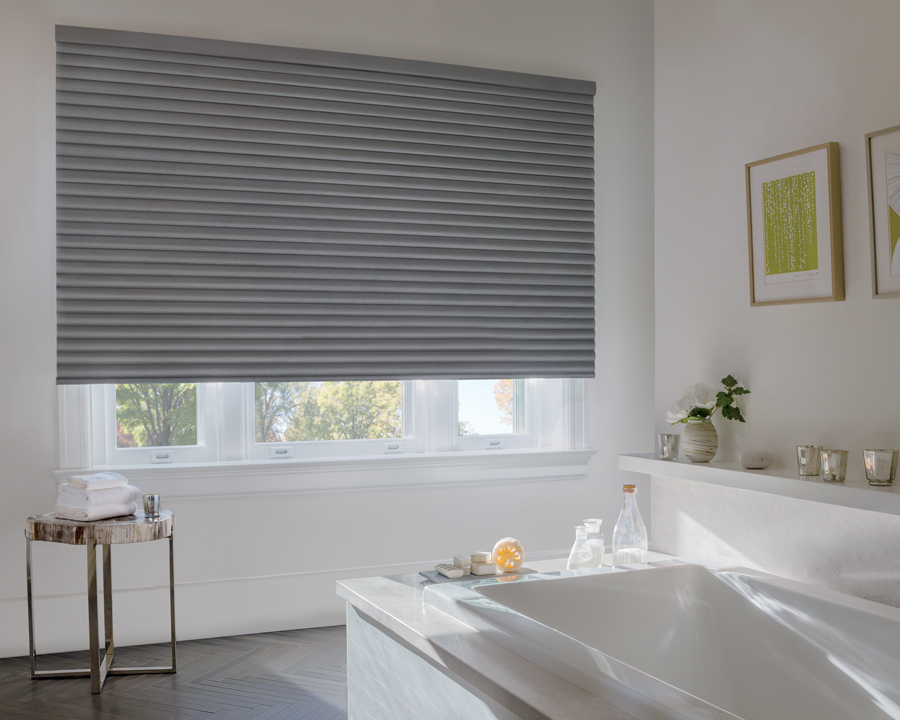 These beautiful fabric shades come in a variety of colors and patterns and are just another option in window solutions that offer protection from the elements.  
Room with a View
Floor to ceiling windows sure have that "wow" factor. It's natural to want to show off those amazing views you have from your living room. But, when those large windows are in your most intimate space, they need solutions. How can you achieve privacy when you need it and enjoy the outdoor view at the same time? We have window solutions that can help, allowing you to keep the sophisticated design elements you long for.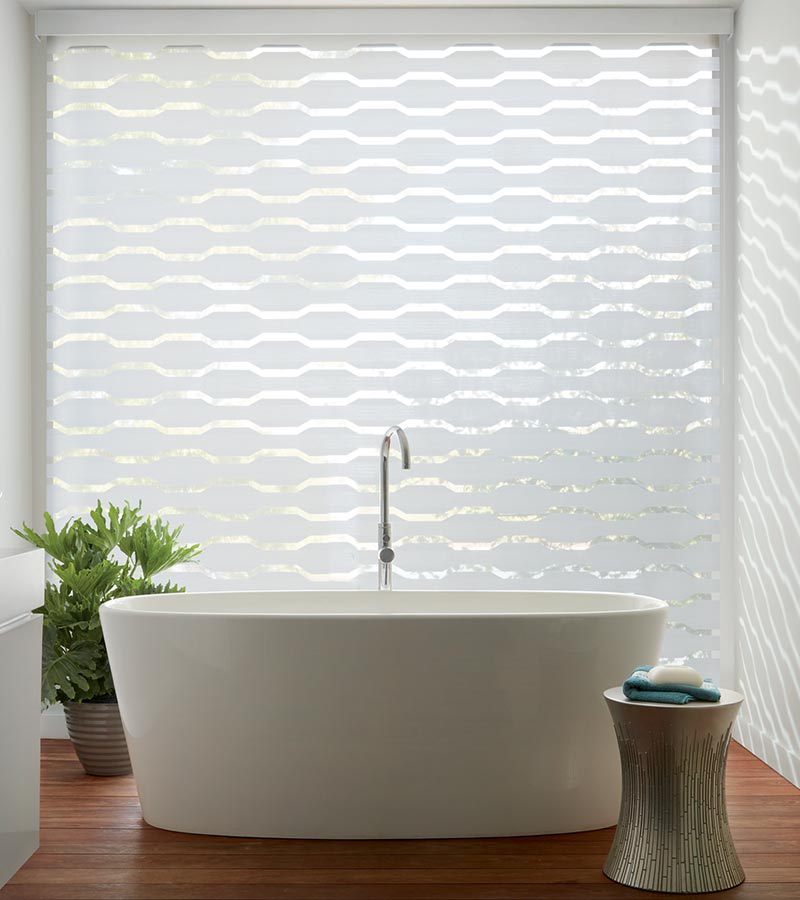 By dressing your wall of windows with stunning designer shades (see above) you can achieve an amazing custom look. This not only promotes intimacy in your space, but provides a backdrop fit for an art gallery. The style options are endless. And don't forget that by adding smart shades, your windows can transition from landscape view to private instantly by voice command, a predetermined schedule, or just a tap on the remote. It's that simple.
Small Space
In other situations, bathroom features must accommodate a small space, like a guest bath or children's bath. Our designers often recommend neutral window coverings that don't overpower the room. This way. a small bathroom has a larger open feel.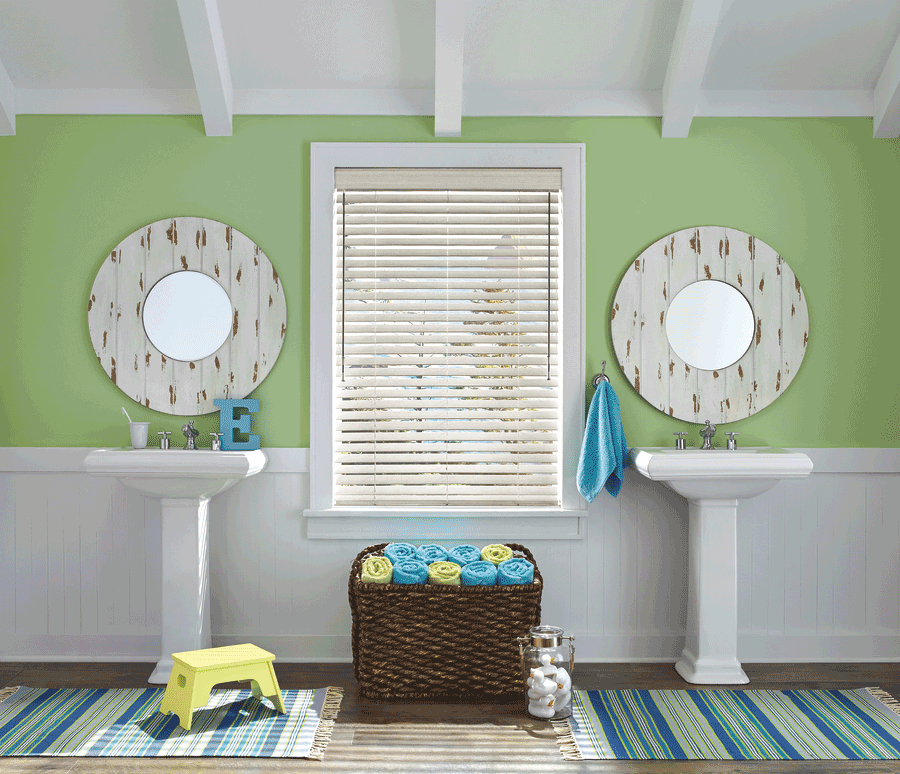 One important factor to consider in small spaces is the ability to adjust shades to open or closed. Make it simple with bathroom features that allow you easy access. Manage shades with a simple touch of the hand or tug on a wand. The options are endless with window treatments.
Simplify Life with Bathroom Features
If any of these bathroom features seem to fit your lifestyle, now is the time to complete your project. By covering your windows, you can update the design of your space while incorporating helpful features that will simplify your life. Let our team at Window Fashions of Texas evaluate your bathroom and make personalized recommendations. Designing your ideal space is simple with a little help from the professionals. Get in touch with us today for your FREE Consultation and begin your transformation!