Solving the Challenges of Tricky Windows
May 19, 2021
The windows of your home can quickly become tricky windows when you live with seemingly "un-solvable" issues. Specialty shapes and unique function can wreak havoc on your home's comfort. Even standard windows can be a challenge when they are out of reach or at the mercy of a unique layout. Let's take look at options for creating the best atmosphere, no matter the window issues…
The Character of Specialty Shapes
Uniquely shaped windows can set your home apart. They customize the look and feel of the interior, while also adding definition to the exterior appearance. Many people fear covering them–they don't want the beautiful character to disappear.
Covering Angled Windows
The heightened look of angled windows is a sought after feature in homes. The sharp angles not only add to the design, but they will bring in a gorgeous amount of natural light. What you need for these specialty windows is window treatments that match the custom angles of the windows. You'll enjoy the dimension, while the also feeling the atmosphere change with benefits, like energy efficiency, controlled lighting & reduced glare.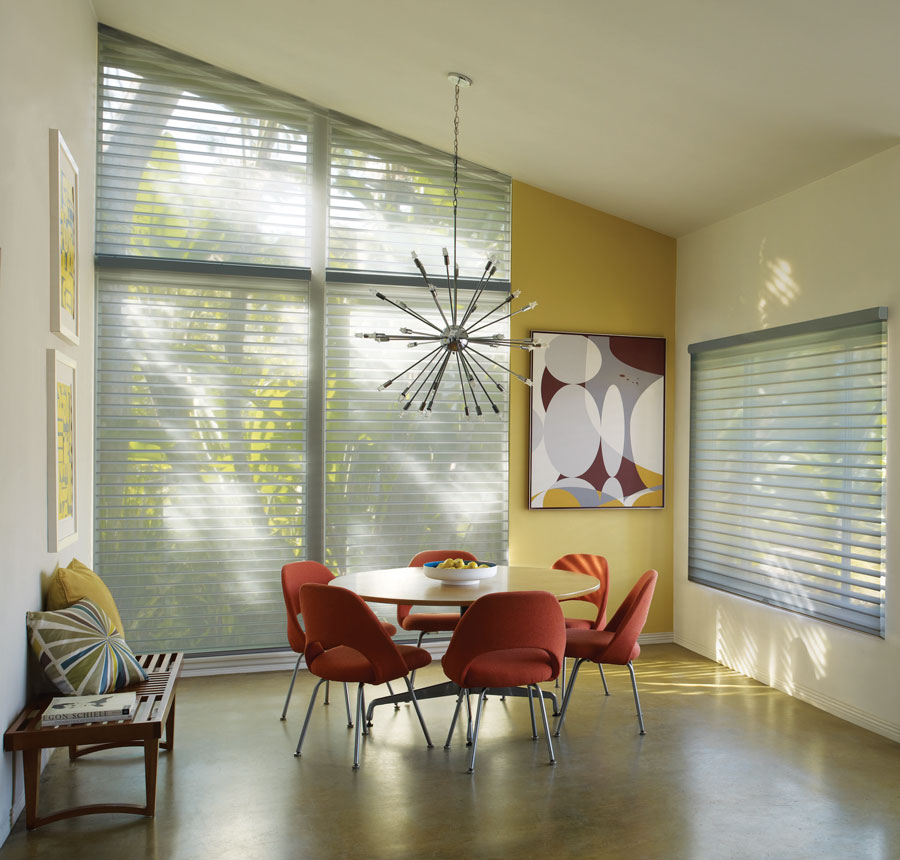 Arched Window Choices
The rounded tops of arched windows bring a curved softness to the design of your home. While there are a range of window treatments that can be customized to cover the arch, you have to decide what works best for you.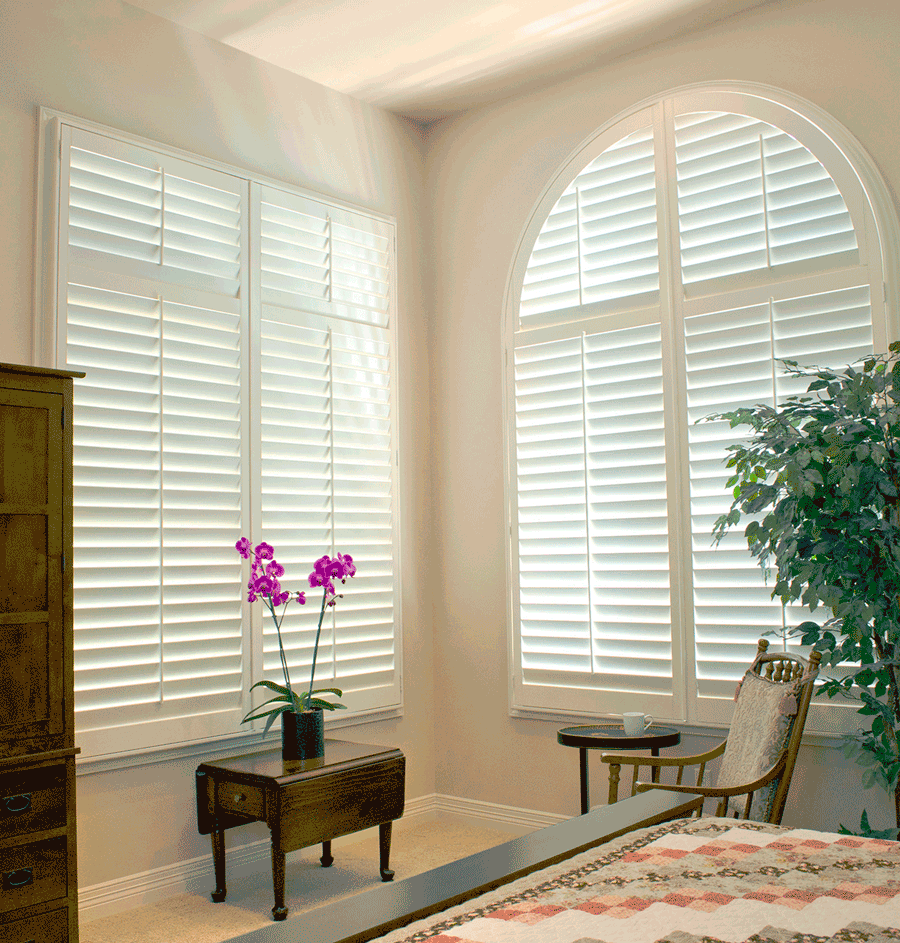 Chances are, you have a preference–after living in your home for an extended period of time–between covering the entire window, or covering simply the bottom portion, while the arched top remains bare for added daylighting.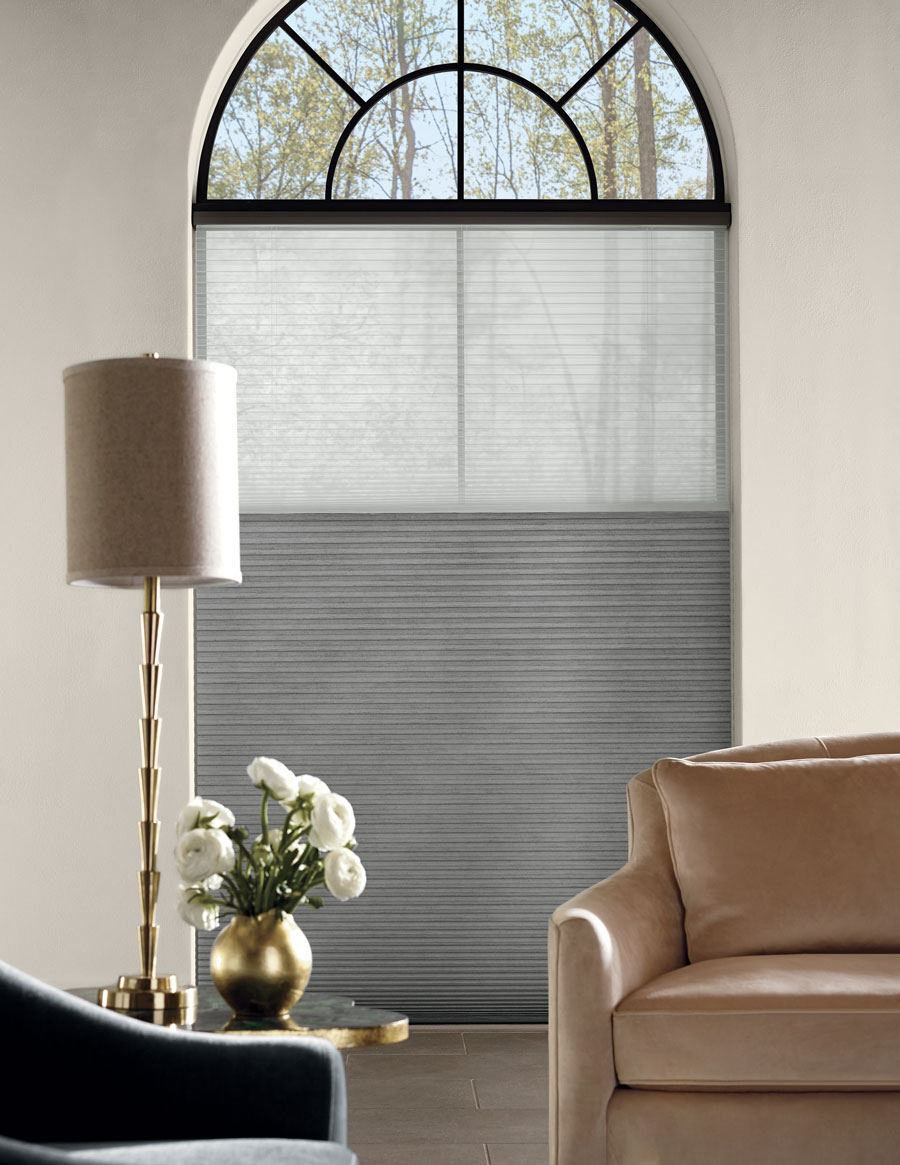 Challenging Function Turned Simple
The best part of bringing window coverings into your home is the ability to use them to change the atmosphere with a simple adjustment. Except when you can't. Your windows serve distinct purposes: bringing in the sunlight and fresh air while offering a beautiful view. You certainly don't want them covered all the time, but you can't have them open either.
Tilt Turn Trouble
European style windows have gained in popularity due to their wide range of function. Tilt them in at an angle, close them up, and then open them up like a door. With such a range of choices, what's the problem? Most window coverings can't keep up with such adjustments. That is, until the TrackGlide® system arrived.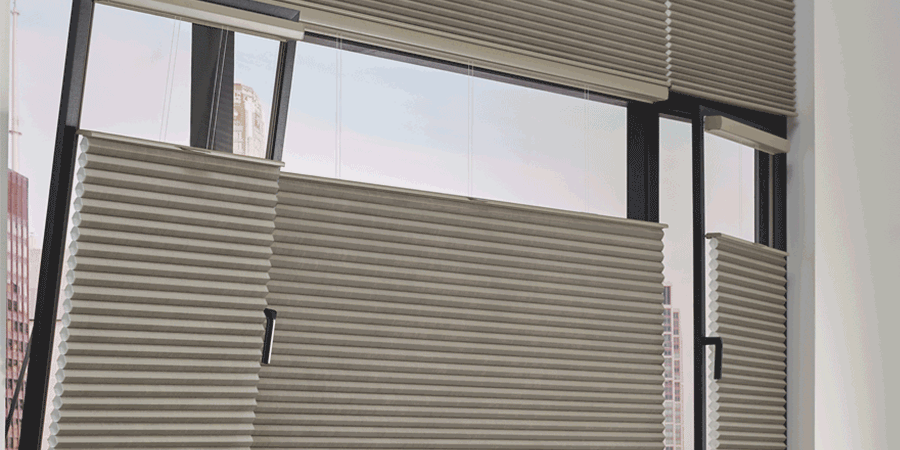 Exclusive to Hunter Douglas Duette honeycomb shades, this versatile system allows the window shades to move with the window. Tilt the window–the shades also tilt. Open it like a door, the window shades adjust right with it. You get complete coverage when you need it for privacy, light control & energy efficiency. And, when you want to open the shades, you can do it easily by sliding up and down on the low profile track. Top down is even an option with this system. Talk about having it all!
Out of Reach Windows
When windows are out of reach, it doesn't matter what shape or function they have. They're simply difficult to live with. The good news is–you don't have to suffer them. Windows that are stuck behind furniture or way up on the wall can be managed. No matter how high they go, even skylights in the ceiling can be covered with ease, and adjusted with simple operation. You just need custom solutions.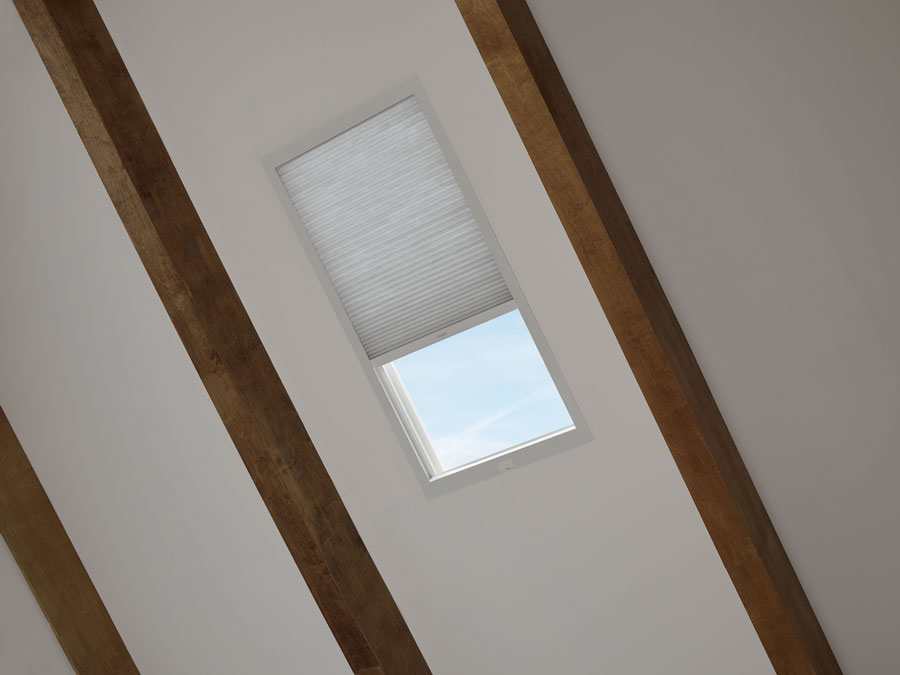 When Layout Creates Challenges
Corner Windows
Having windows that meet in or near the corner of your home can have advantages. Light enters from different directions, meaning you have constant natural light entering. Plus, have a view in two different directions can invite an open, airy vibe. But, what happens when the light is too much, the heat–too intense and the street traffic–too meddlesome? You'll need solutions to create comfort.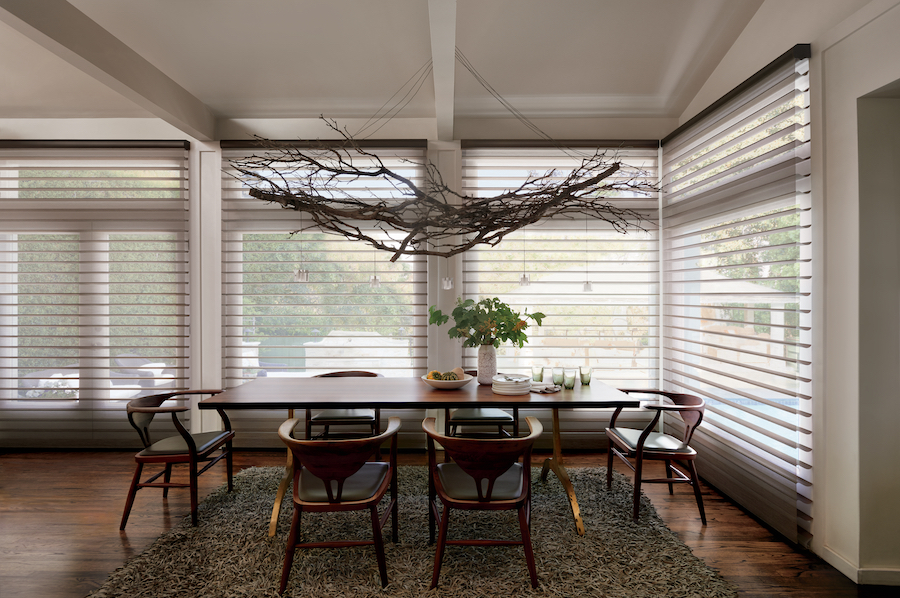 Depending on your home's unique characteristics, there will be a variety of choices, from low profile window coverings, to hard treatments, like shutters, that fit together in place.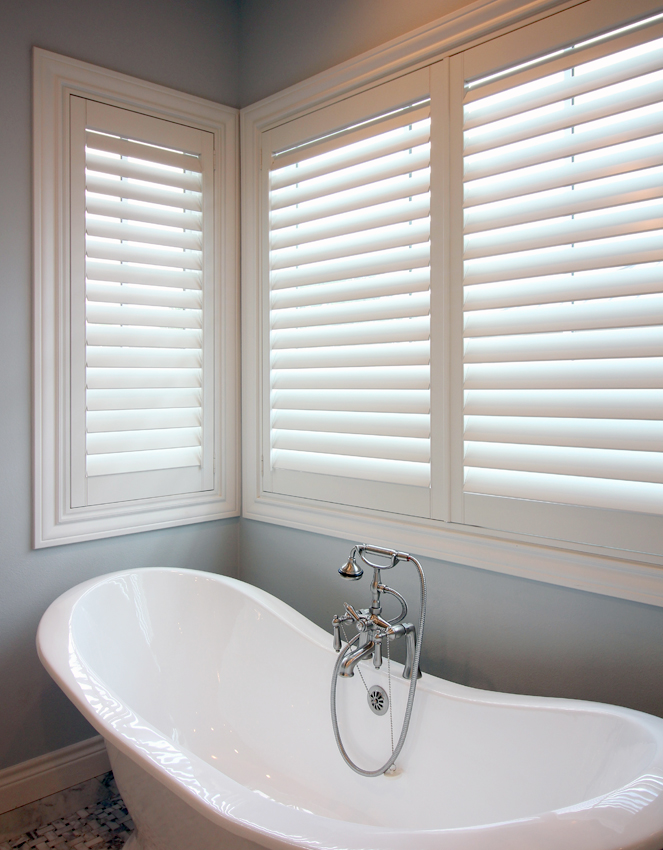 Bay Windows
Bow and bay windows create cozy spaces within a home–from a breakfast nook to a master bedroom alcove. And, when you're looking to add privacy or control the incoming light, you might discover challenges. There's not one "end-all-be-all" solution for these unique spaces, and that's part of the beauty of it! It's all about balance and finding window coverings to enhance the atmosphere.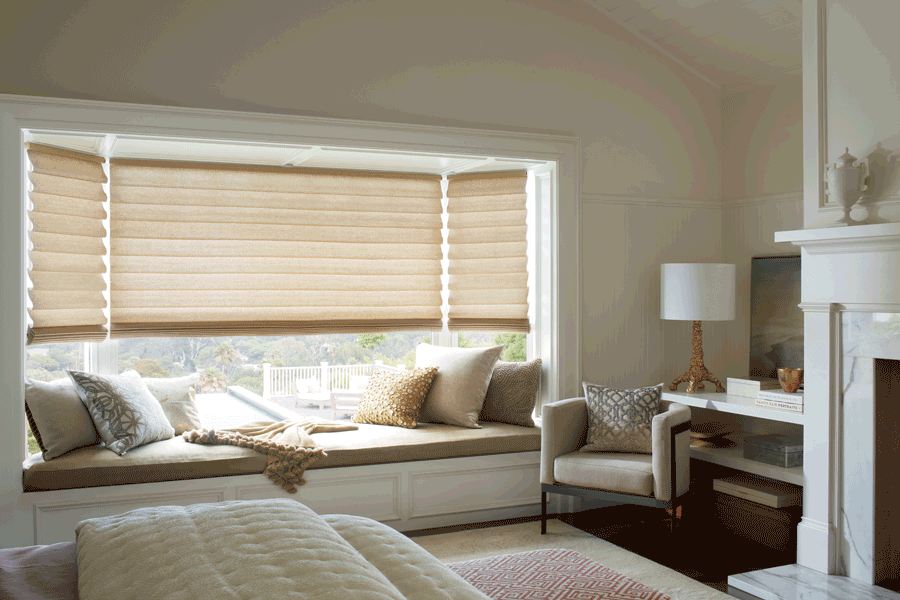 Tricky Windows: Effective Solutions
Window challenges? No problem! We'll guide you to the right window coverings that will customize the look and feel of your San Antonio area home. Our team, at Window Fashions of Texas, will meet the issues with thoughtful expertise so you can have the home you serve. Contact us for your FREE consultation.