When it comes to creating the right atmosphere for sleep, comfort and privacy, there's one design element that delivers! Let's explore the details of the best bedroom window treatments. .
A Darkened Space 
No one would deny that having darkness is an important part of getting a good night's sleep. But, what exactly does darkness offer?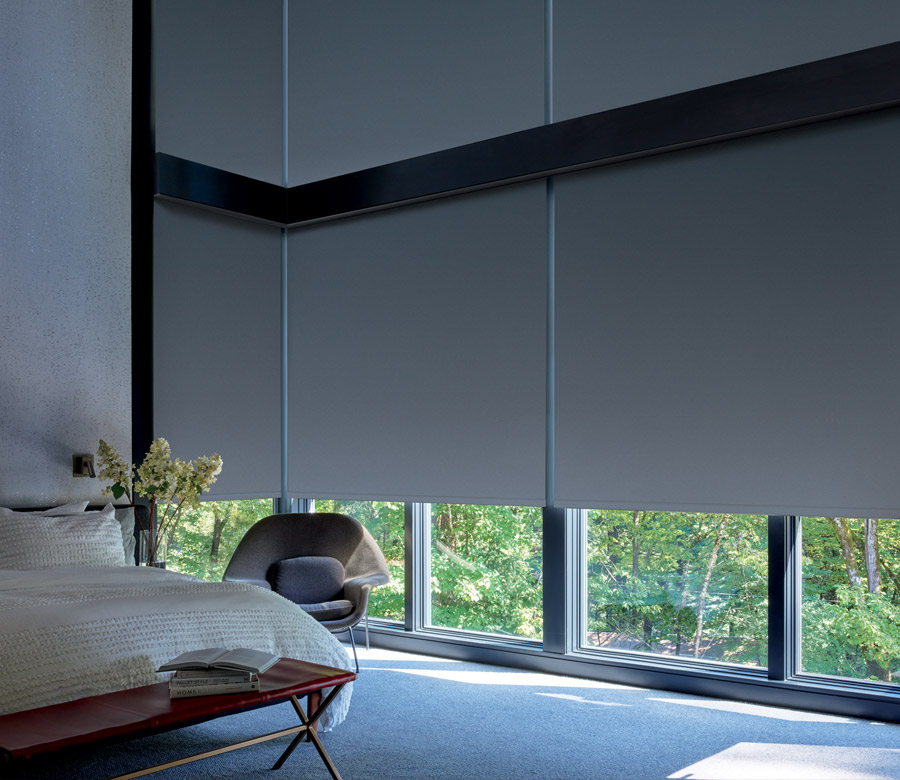 The best bedroom window treatments let you STAY asleep when the sun comes up. But, they also help you fall asleep faster–and sleep through the night. Some of the common reasons people wake up during the night? Distracting light from street lamps, passing cars–even the full moon–can disturb your sleep. 
Which Choice: Room Darkening Or Blackout?
If you're wondering what the difference is between "room darkening" and "blackout," you're not alone. Many people use the terms interchangeably. But, there is a difference, and you should know which choice you need.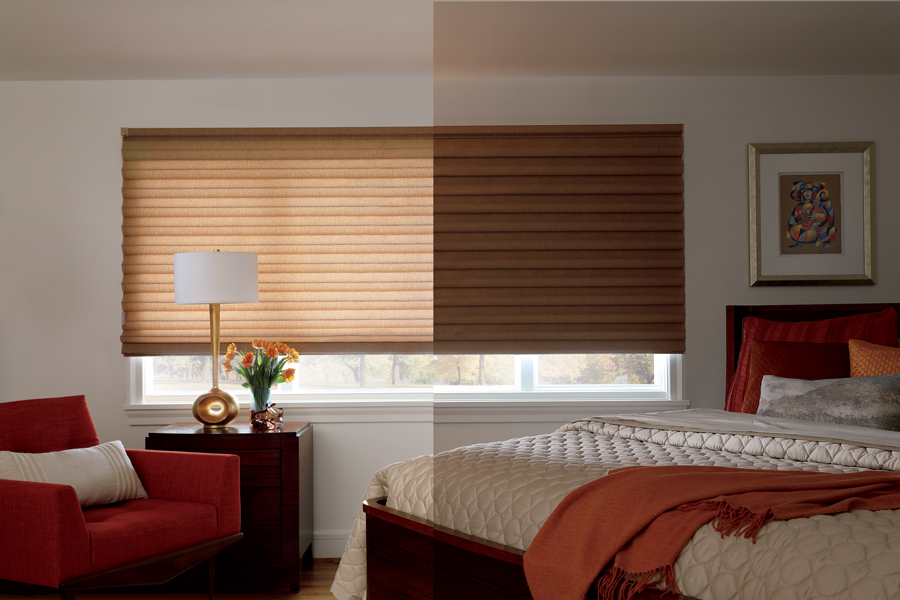 Room darkening fabrics keep most of the light out. Blackout fabrics tend to be completely opaque–no light getting through. But, there are also side gaps to consider.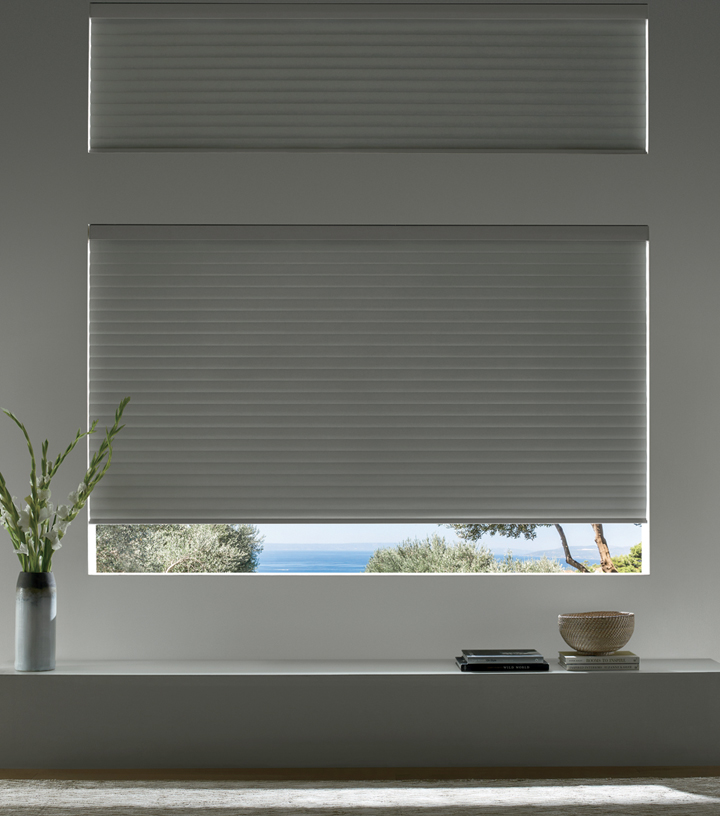 When slivers of light, along the edge of the shade, enter the space, it can create somewhat of a halo. That can also mean "room darkening," whereas "blackout" would mean the light is sealed outside. One of the innovations we love is LightLock, adding a U-shaped channel to the window frame for honeycomb shades to glide up and down–creating the ultimate blackout experience.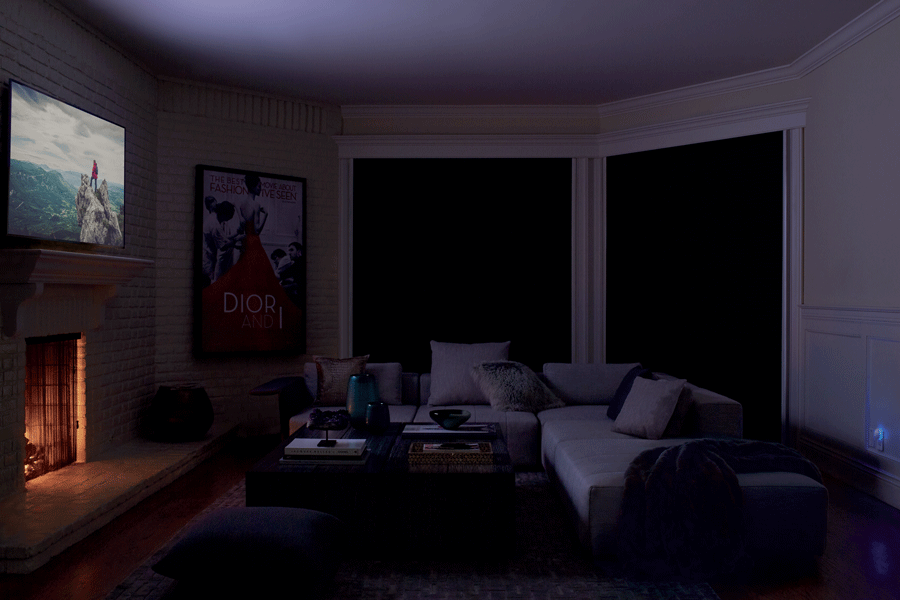 Think of Adjustments
Once upon a time, you may have wanted an on/off switch for your bedrooms. Light during the day, and dark at night. But, anymore? We've learned that each and every room in our homes must be versatile. Window coverings have a great deal to do with that. A bedroom that is used for sleeping at night might also be used for early morning yoga, transitioning to a remote office space later on.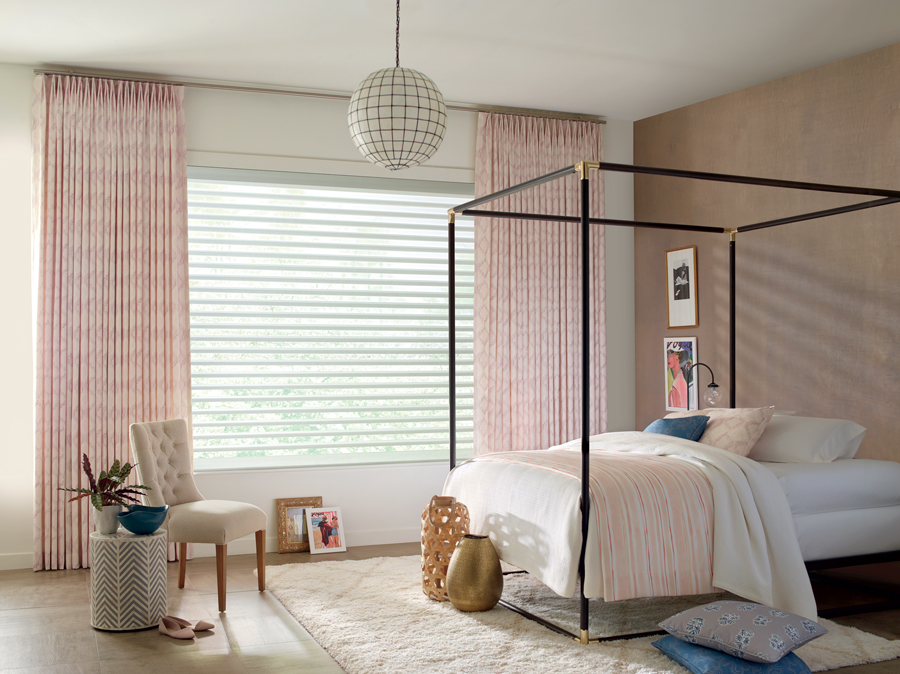 Work smarter, not harder by adding automated window treatments to your smart home features. Which operating feature would be your favorite? 
Instant adjustments with a tap or voice command

Make adjustments from anywhere

Create scenes for each portion of the day

Integrate with your smart home system for automatic changes
Twice As Nice: Dark & Light
As one of the most popular features in window coverings today, dual shades deliver darkness and natural light to transform the atmosphere. When searching for the best bedroom window treatments, you should definitely consider this feature.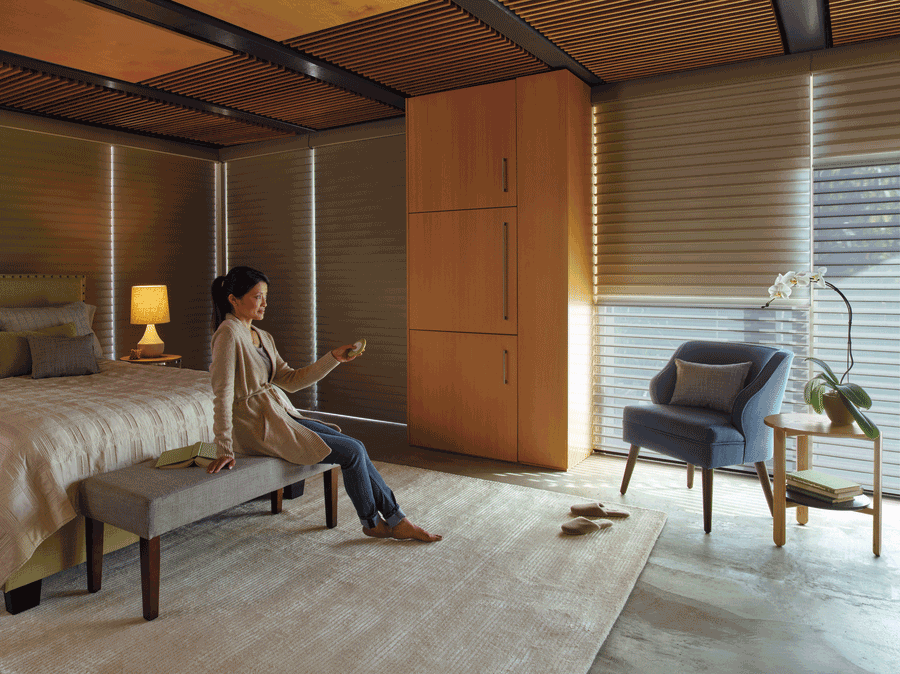 Dual shades mean that there are two shades on the same window, using the same headrail. They both provide a level of control, with the front offering soft light and view, and the back shade closes out the light in the environment with room darkening.
Top Down Solutions
It's your bedroom. That means–privacy is important. But, when you're getting ready or doing about your day, light is important, too. The good news is–you can have both privacy and natural light with Top Down shades.The light enters, streaming across your ceiling to illuminate the space. But, the bottom is covered, reducing glare and increasing comfort. This effect can also be create with split tilt shutters.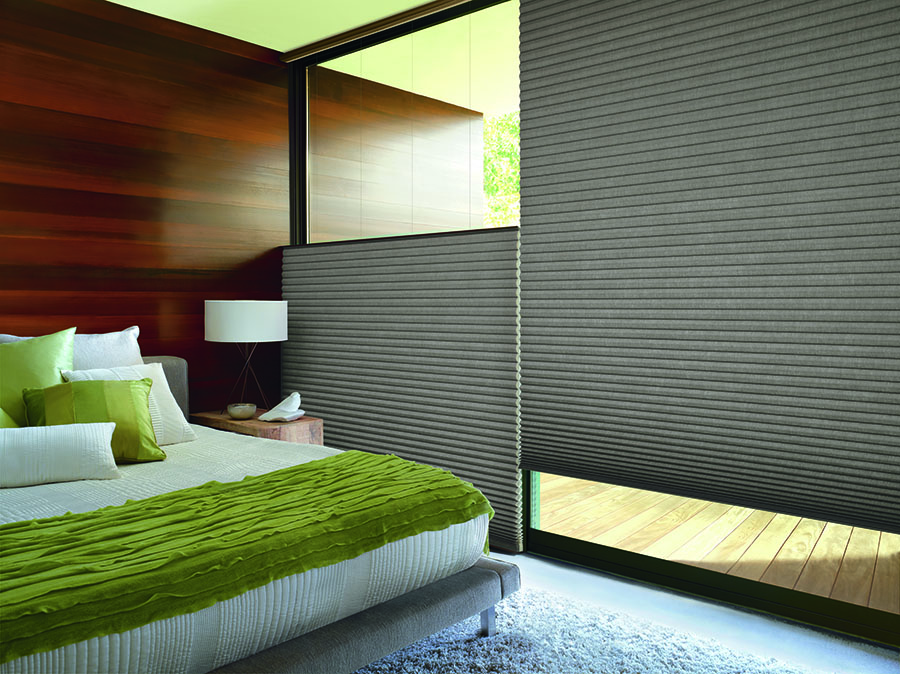 Year Round Comfort
In San Antonio, we have a lot of experience with sunlight and heat. The hot afternoon sun will bake the bedrooms of your home, making it difficult to fall asleep. With insulating properties, our energy efficient window coverings are some of the best bedroom window treatments.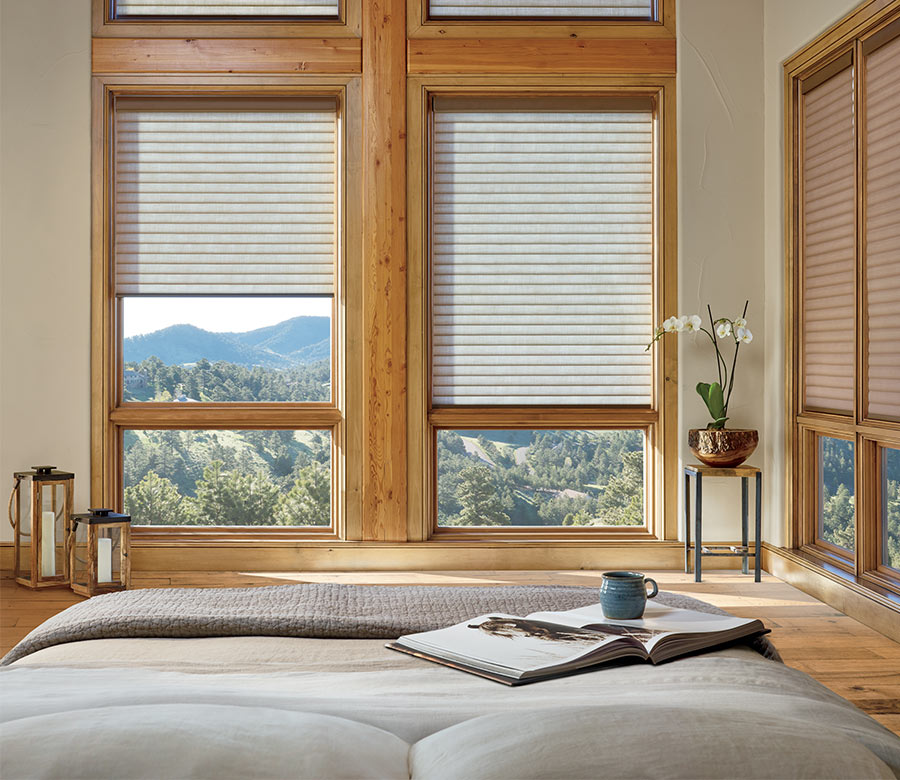 No matter how hot it is outside, it can be cool inside your home. And, during those couple of months when you wake up or go to sleep with chilly "winter" temps, those same coverings will prevent drafts.
Choose Safety
If little ones are running around your home–even a portion of the time–it's a good idea to evaluate the operating features of your window coverings. While most new parents are quick to "baby proof" the house, blind cords are sometimes left as an item that they'll "get to" later on, since babies won't be crawling or climbing for awhile. Accidents happen quickly, and your child's bedroom is a place where you want them to be safe, especially since they are typically alone in there for the night. Getting rid of the cords, or choosing cord-safe systems, is the best thing to do.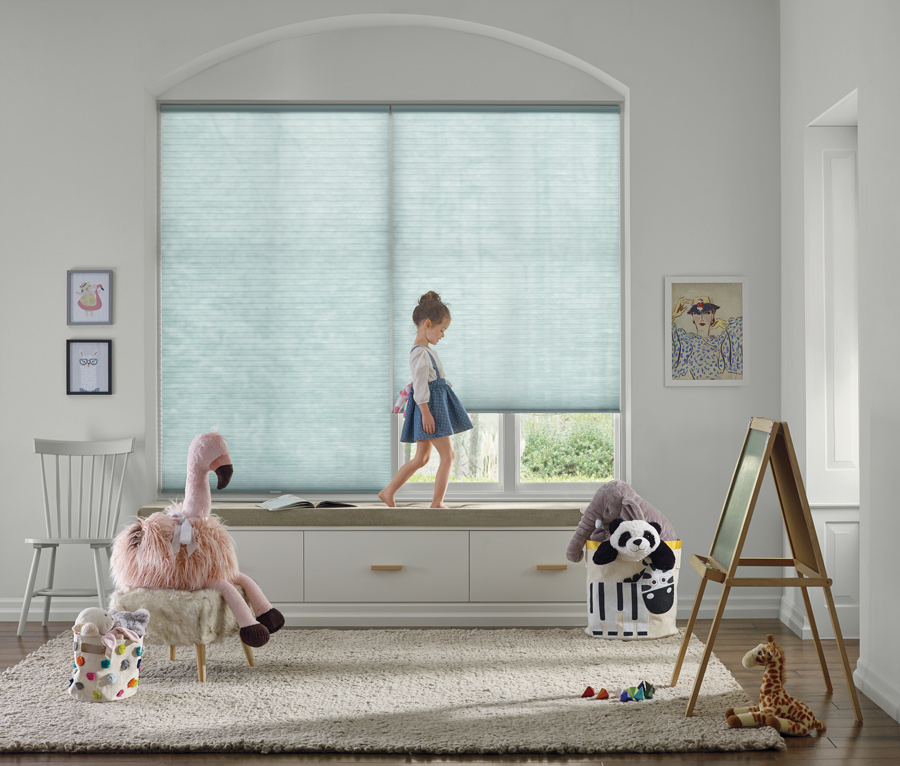 The Best Bedroom Window Treatments: Did You Find Something You Like?
Many of the features listed here are those that have changed the lives of homeowners in the San Antonio area. Sleep, comfort, privacy and access to invigorating sunshine are all important. If you want to see more of the best bedroom window treatments, stop on by our showroom! You can browse collections, see fabrics in person, and operate the coverings just like you'd want to have in your own home. Or, schedule a visit from one of our experts. You'll get a FREE design consultation as we sit down to chat about what will work in your home. Get in touch with us today!