Set your kitchen up for success with kitchen window coverings! The right window treatments can have a huge impact on the comfort and function of the busiest room in your home. Make your kitchen the perfect retreat by addressing common issues such as light control, privacy and energy efficiency. We can show you how.
A Look Behind the Sink
A common feature in kitchen design is the window behind the sink. This familiar focal point provides a view to the outdoors and allows natural light to fill our kitchens. Although we spend less time standing by the kitchen sink than in the past, we still need to address common issues that arise from the placement of this particular window.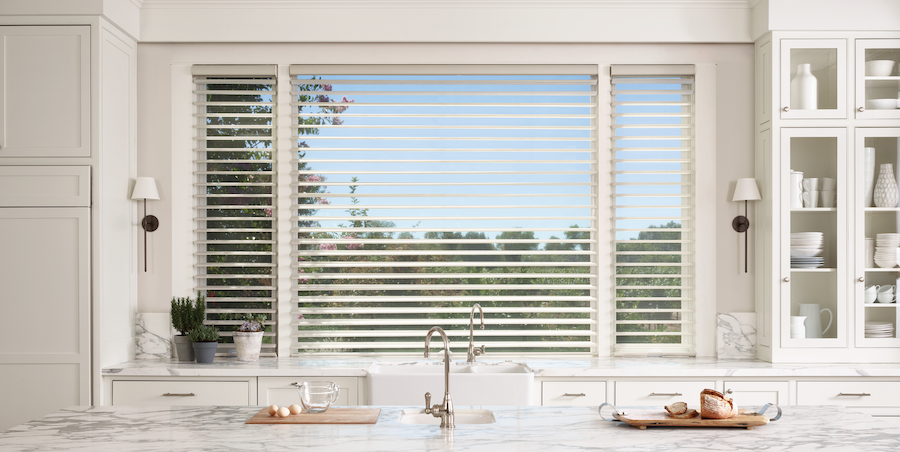 After all, homeowners want relief from harsh glare, privacy at night and energy efficiency during extreme temperatures. Kitchen window coverings can accomplish all those needs and more…
Windows & Doors Together
A typical kitchen layout includes doors and windows in the same space. Think about it. In order to gain access to the outdoors, most kitchens have sliding glass doors, patio doors or a set of french doors. Kitchen window and door coverings offer necessary functional capabilities and create a finished look.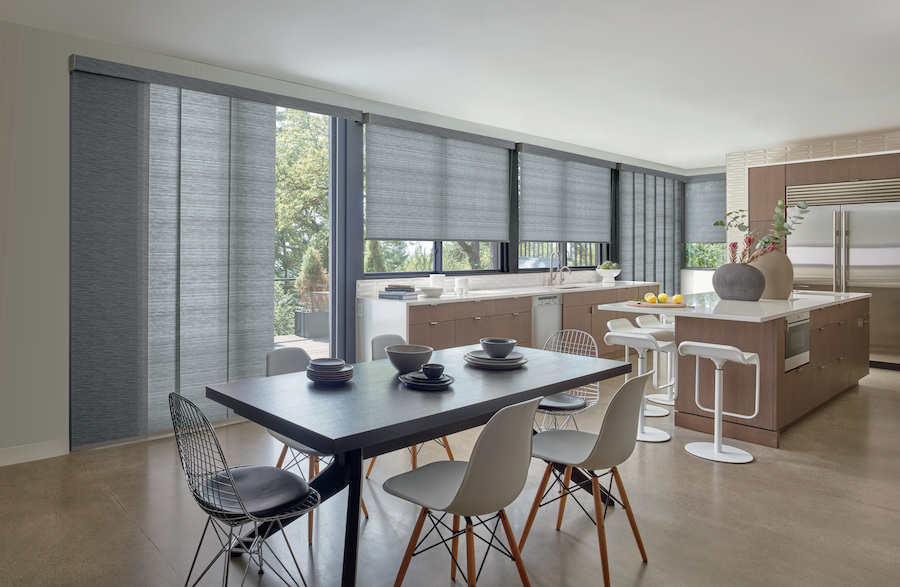 Many clients prefer the same treatments on both doors and windows, but sometimes that's not possible, and it definitely looks great either way. Windows and doors come in all shapes and sizes, with some opening horizontally and others vertically. By coordinating treatments, you can achieve the look you want with the function you need. It's ok to pair vertical and horizontal treatments in one space, just make sure you are choosing similar fabrics and colors. You can have it all!
Kitchen Window Coverings: Dining Space
It's so important to design a kitchen dining space that is comfortable for your loved ones. Windows that create a beautiful backdrop to the outdoors can also be a nuisance. Be sure your treatments are chosen thoughtfully and include certain functional elements–this will allow you to enjoy the view. First, consider the direction your windows face and how the sun comes in, you'll need shades to filter the light. In addition, if seats by the windows get way too hot, add insulated energy efficient window treatments. We can show you how to make an informed decision and avoid discomfort.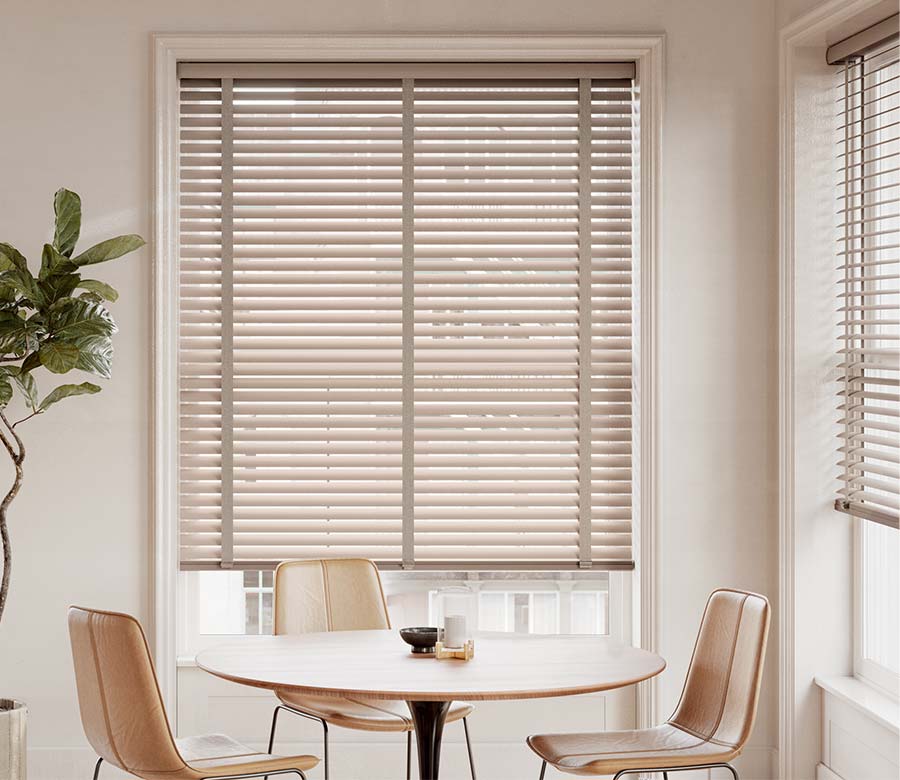 Kitchen Window Coverings: Avoid the Mess
It happens. Creating a mess in the kitchen is par for the course-meal prep, foot traffic, art projects-you name it. This is why your kitchen window coverings must be up for the challenge. Ask your window covering specialist what treatments they'd recommend for certain areas in the kitchen. Maybe shades to filter harsh glare in the dining area, but wood shutters that clean up easily above the sink.
It's time to give your kitchen window coverings the attention they deserve. We'll guide you in the process and help you control the heat, the sunshine & the mood. Not to mention add function, privacy and beauty to the most popular room in the home. Get in touch with us for a FREE consultation or schedule an in-home visit from our treatments specialist. Let's get started!