No room in your home is created equal with any other. They all have their purpose and function in your family's lives. That also means that you'll need privacy at varying levels throughout the spaces. Let's explore which rooms need it most, which need it least, and which window covering features will create solutions you love…
The Most Privacy?
It's no question that you NEED privacy. But, the levels that are necessary depend on the rooms themselves. We consider bedrooms and bathrooms to be the highest priority. Let's explore which window covering features homeowners love in these spaces…
Bedrooms
When bedrooms are used just for sleep, the "on/off" function of window shades is ideal! In the open position, you enjoy light during the day. In the closed position, you darken the room for privacy and sleep. It's a pretty simple concept.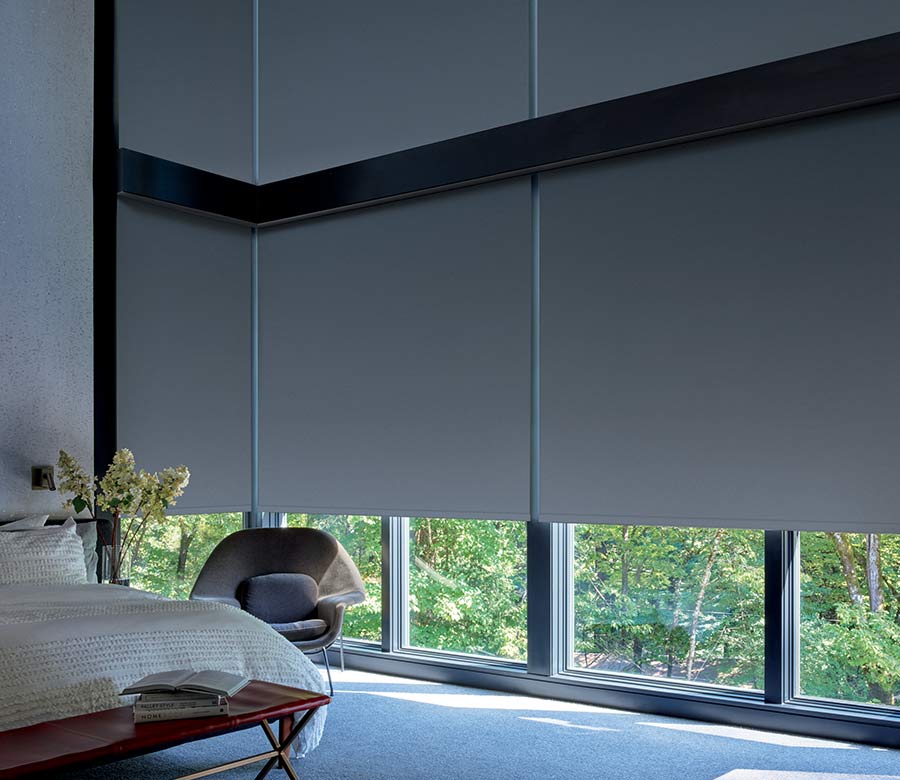 However, with today's innovations in window coverings, many homeowners are starting to rethink the way they could use their homes. Bedrooms are a perfect spot for reading in the afternoon, or a small home office nook. In those cases, a wider range of light is needed. Dual shades have gained popularity, due the their ability to offer privacy around the clock, while adjusting the light for sleep or daytime options.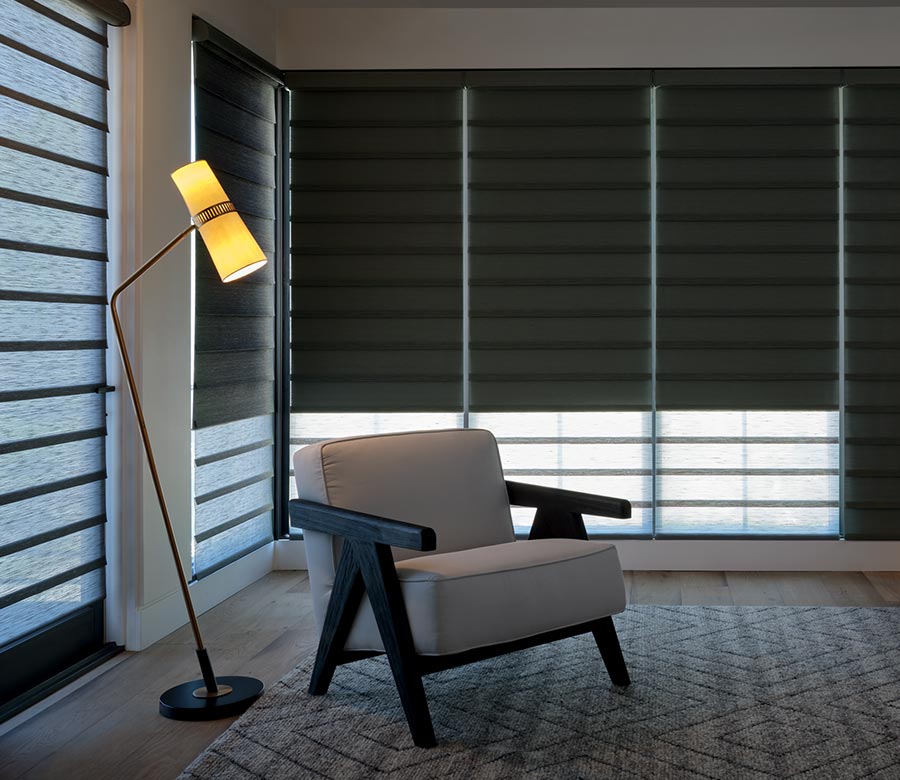 Bathrooms
Another space where privacy is key, the bathrooms of your home need the right window treatments. Some homeowners love the idea of blinds or shutters that stay in place, adjusting the louvers or slats to balance the light & privacy.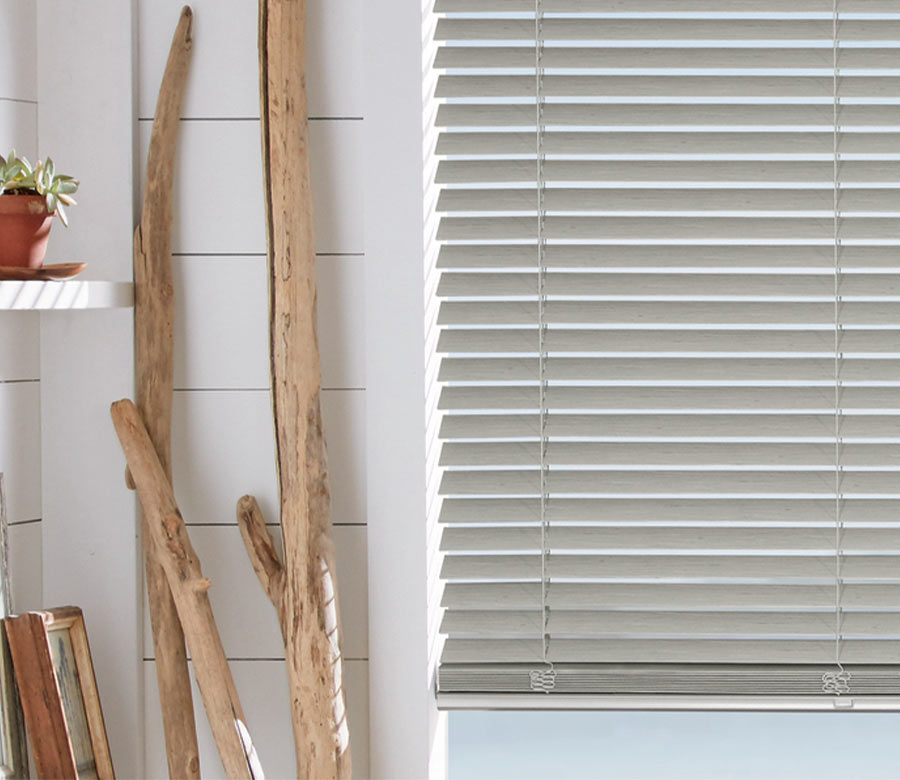 As long as the adjustments are simple enough, these coverings work great for powder rooms, or even full baths. Achieving the right atmosphere can get a little more tricky in primary bathrooms, where family members are getting ready for the day, or when there are obstacles to work around.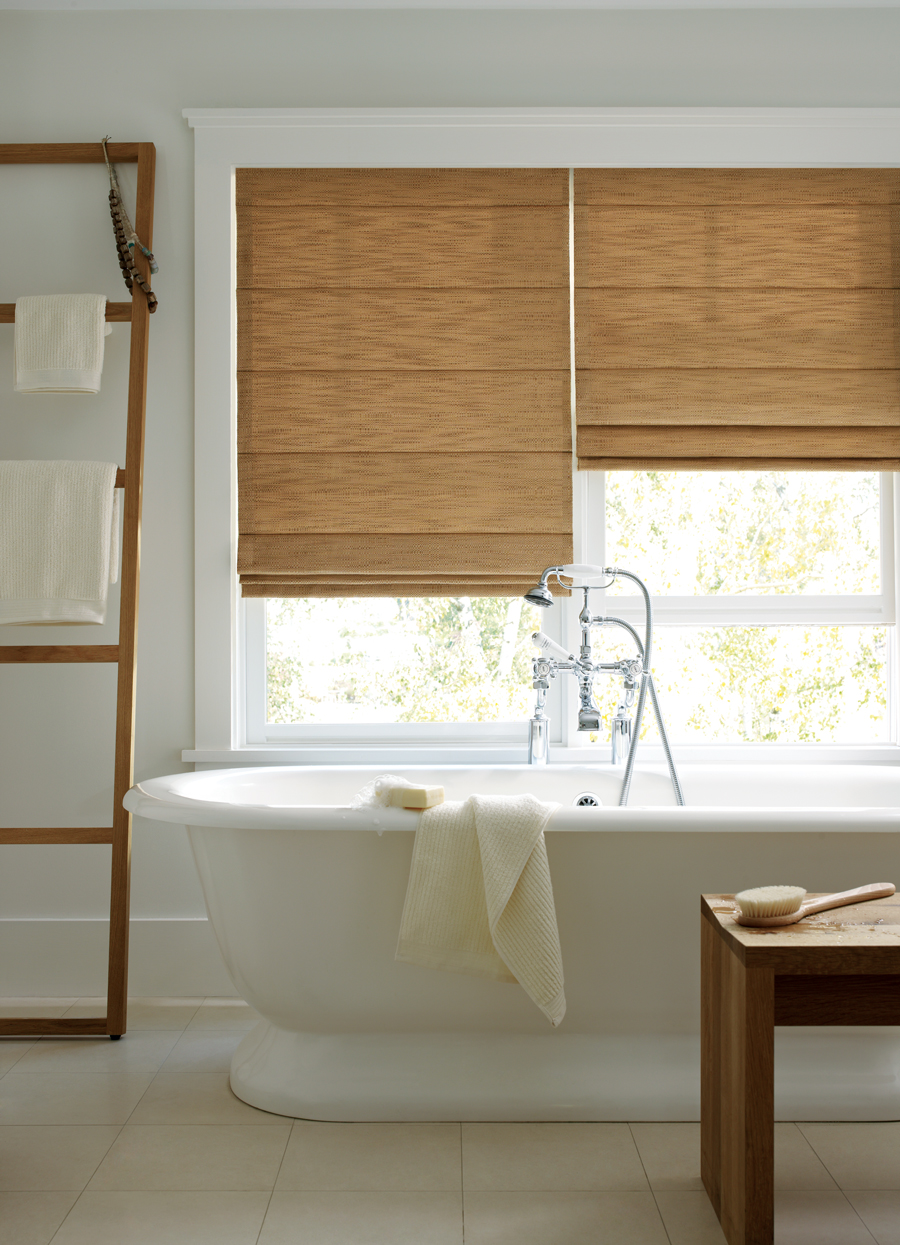 Adding smart shades to a private space is a great way to make adjustments simple and easy. The window over the tub is a constant conversation in the window covering world. It's a great feature, lets in ample natural light, but can also be a source of frustration when it comes to access to privacy or natural light. With remote control shades, one quick tap removes the inconvenience and creates the right environment consistently.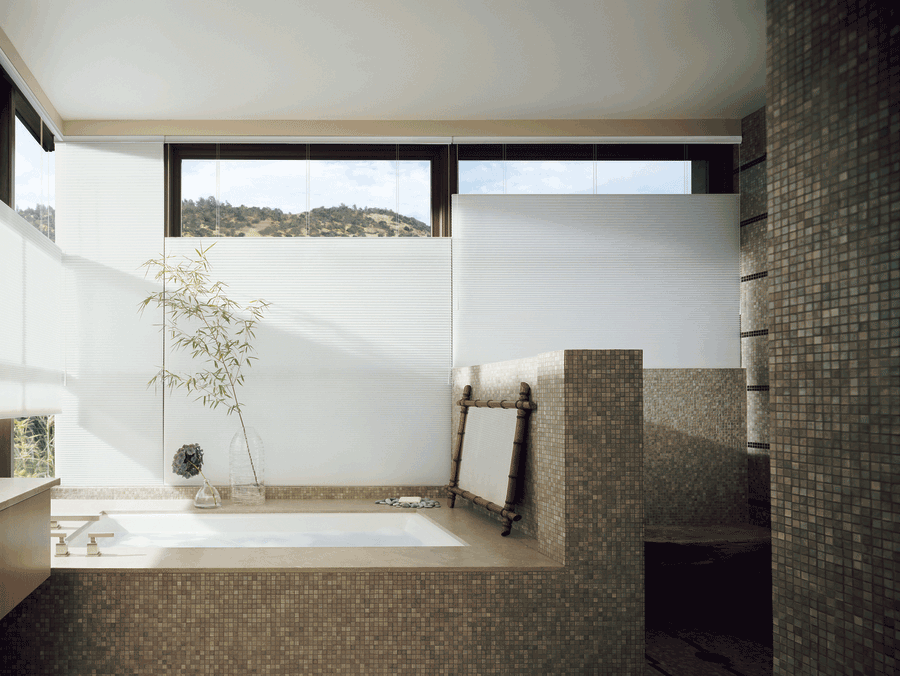 Another favorite, the top down shades feature, brings natural light in across the ceiling, but keeps the majority of the window covered.
Middle of the Road Privacy?
Some areas of your home require privacy, but maybe it's not the "complete" privacy you look for with bathrooms and bedrooms. The front of the home and entryway fall into this category. Much of this can depend on your home's specific location, as well. There are some questions to consider when choosing window coverings for privacy here…
Is there a significant amount of street-level foot traffic?
How close does your home sit to the roadway?
What type of windows and doors do you have?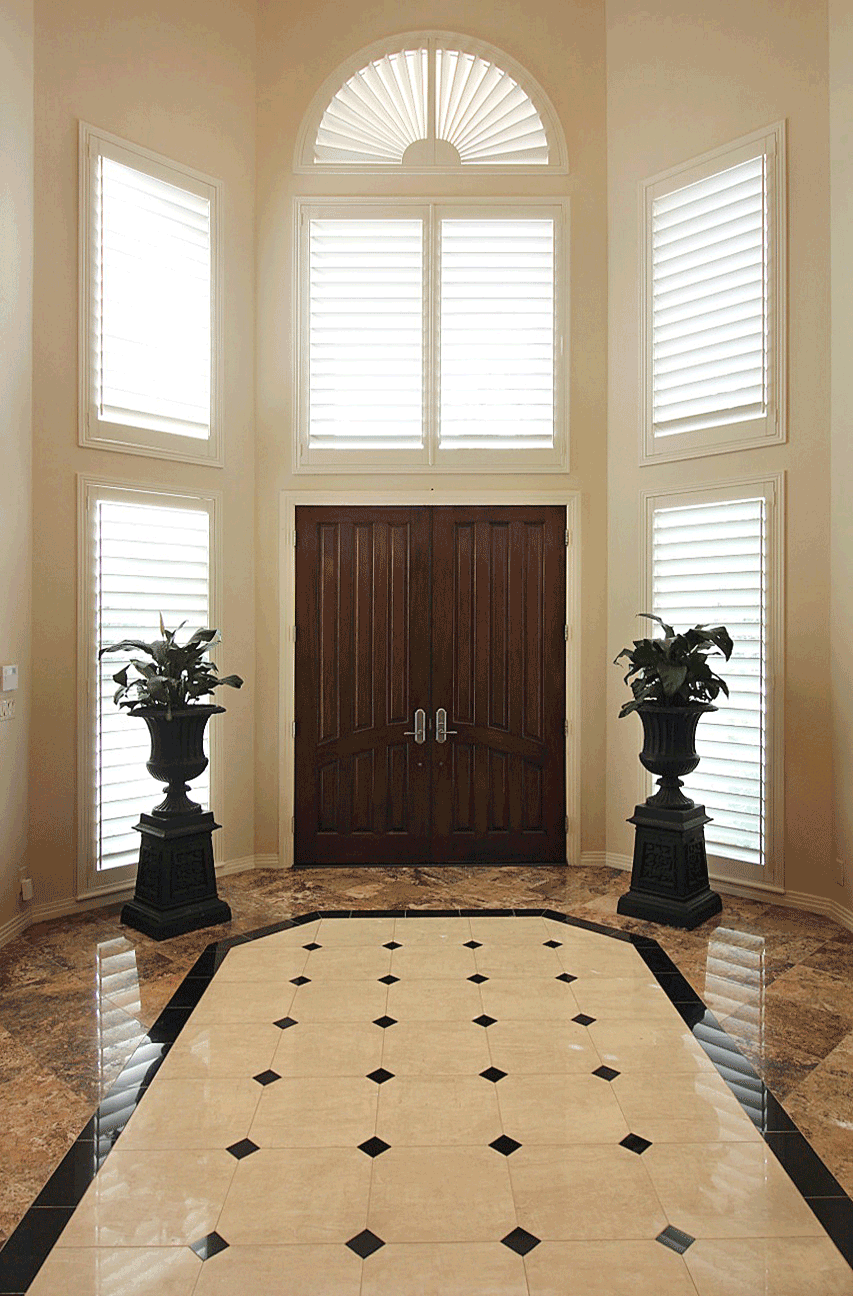 Natural light entering your home into the front windows creates a bright, welcoming atmosphere. There are ways to bring in that light without giving the exterior a view into your home. The louvers of shutters can direct light in, while blocking exterior views. Top down shades can invite light while adding privacy. Or, by choosing light filtering fabrics, you add levels of privacy, without getting that "blocked out" feeling.
Many of today's smart home features is helping homeowners feel more secure. Window coverings play a big part in that. With smart shades, you can have them adjust on a schedule. You get the privacy and light control you need, and you can create a barrier for those outside views into your home. Even better? This continues whether you are home or not. At work? Smart shades continually adjust. Out of town? No one will know it because your window shades are changing position over the course of the day.
When the Sun Goes Down…
Like most families, you probably have "common" areas of your home that you wouldn't necessarily consider to need privacy: Living rooms, family rooms, kitchens. But, after the sun goes down, the lights come on. Suddenly, there is a spotlight on family game nights and dance parties. Having bare windows can all-of-a-sudden make you feel "on display." Bring comfort into your home with fabric shades that put a layer of privacy between you and your neighbors. The great news is that you can choose the opacity that makes you feel most comfortable.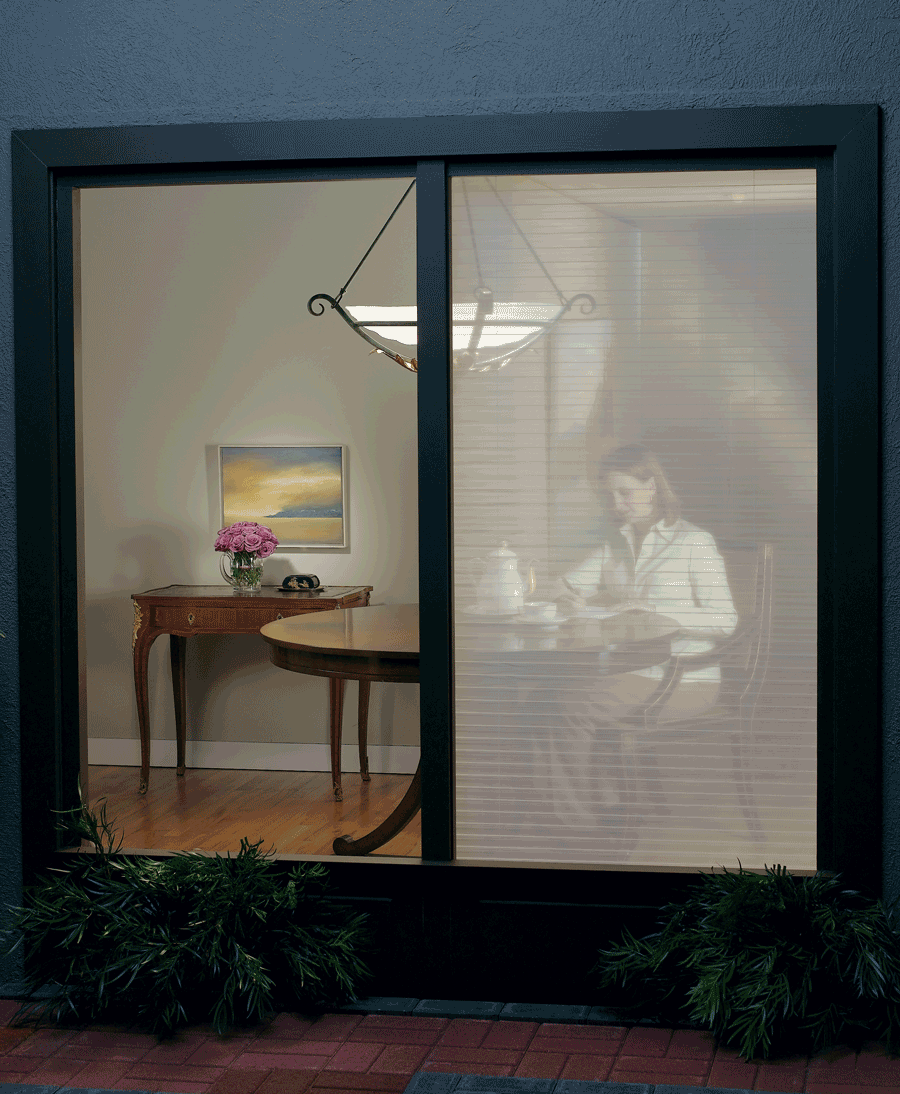 Your home should feel custom to you, and you deserve to have the right kind of atmosphere. If you need help deciding which window coverings will help you achieve the right kind of privacy for various spaces in your home, we'd love to help. Our team at Window Fashions of Texas can come to you for a free consultation, offering advice and inspiration for your home. Get started by getting in touch with us today!